Photo credit: Alex Cao
Violinist Juila Glenn has always been interested in the connections between language and music. Glenn completed her Doctorate in Violin at Juilliard and also taught Music Theory and Analysis and Music History at the School. During her studies at Juilliard, Glenn tapped into her background in linguistics and Chinese language to discover new opportunities in Chinese music theory and performance. Glenn loves exploring works by contemporary Chinese composers. Last year, she performed Ye Xiaogang's Lamara Cuo with Joel Sachs and the New Juilliard Ensemble as part of Juilliard's 2018 FOCUS! Festival. Juilliard's 2019 John Erskine Faculty Prize for exceptional scholastic and artistic achievement was recently awarded to Glenn for her recording and video project exploring works with deep connections to China and Chinese culture.
This year, Glenn will be moving to China to embark on her new role at Tianjin Juilliard as a resident faculty specializing in music theory and violin. "My passion for China and Chinese culture, combined with my love for Juilliard and all that I have been able to do there as a student and teacher make Tianjin Juilliard the perfect place for me," she said.
As a child, Glenn grew up with music in her life, and she often travelled to Europe when her mother toured with her string quartet. Her mother, Bayla Keyes, is a violinist and her father plays the cello and double bass. During the summer of Glenn's senior year at Walnut Hill Art School, she had the opportunity to tour China, performing with Ben Zander and the New England Conservatory Preparatory School's Youth Philharmonic Orchestra. This was Glenn's first exposure to China and Asia, and she was completely floored. She found that there was so much to discover. From then on, Glenn developed a passion in exploring and sharing the music and culture of China.
Shortly after that experience, Glenn started her undergraduate studies in linguistics at Harvard, and she signed up for a Chinese class immediately. She took Chinese classes for four years while studying at Harvard, including a summer intensive course in Beijing. She also earned a Master of Music from New England Conservatory of Music as part of a dual degree program. Every other summer, Glenn sought out opportunities to go back to China to work, volunteer, and perform. "My Chinese teachers were so dedicated and helpful, and they made learning more than just about studying the language – it was a deep and welcoming exposure to the culture," she said.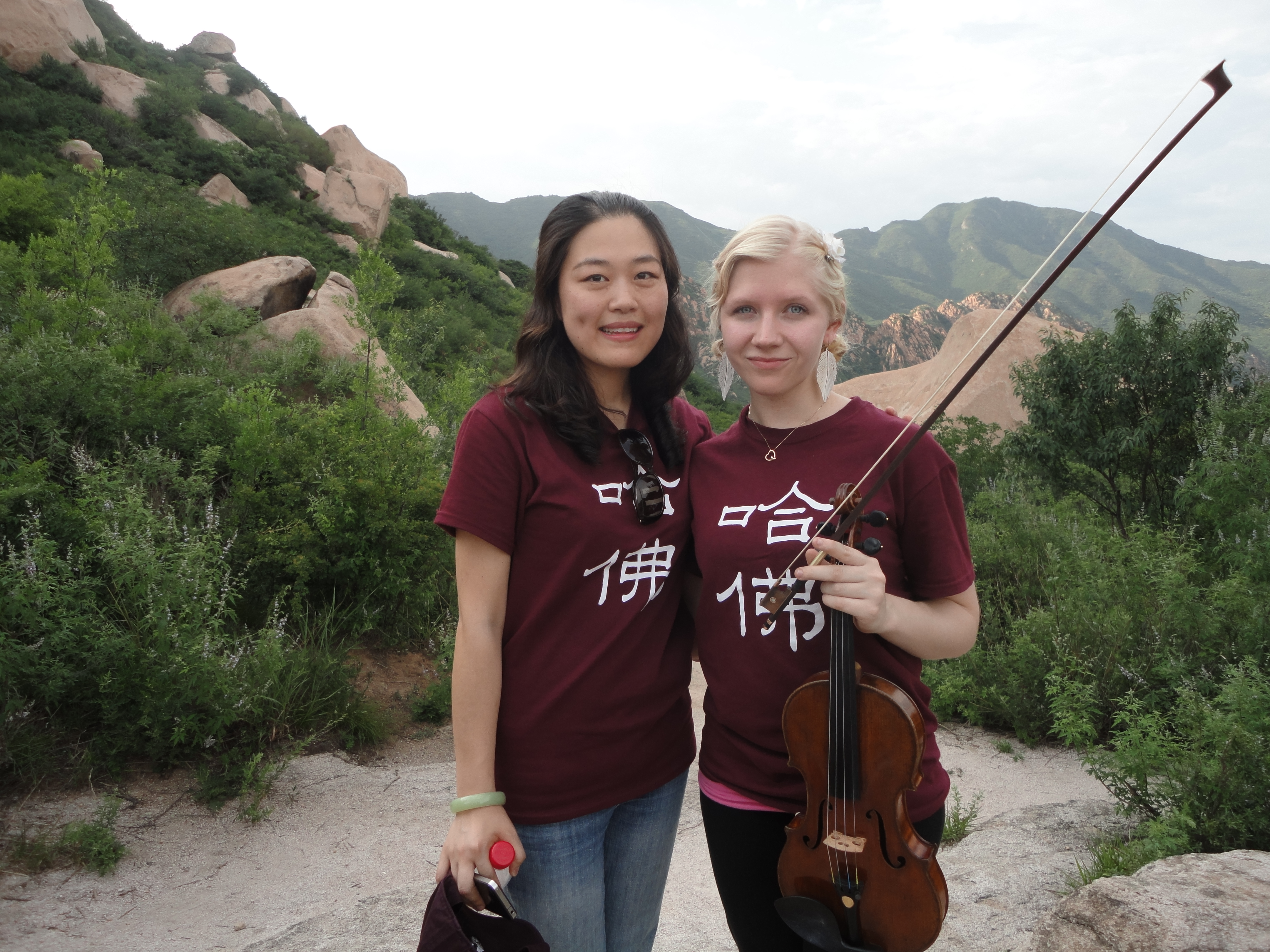 How did you become interested in the correlations between music and language?
Before college, I had never heard of "linguistics" or "phonology," but when I explored these fields, I was fascinated and saw it as a perfect way to augment previous academic and musical studies, as well as Chinese language studies. My major in college was experimental phonology. The way we process, perceive, and produce music and language is different, however, there are important and surprising overlaps! Studying and performing Chinese music, I am constantly reflecting on the different boundaries that exist between musical and linguistic pitch in Chinese and English. I think this sensitizes me and encourages me to think about music, singing, and communication in different and enriched ways. Actually I think this could provide wonderful creative potential for Western musicians and composers in general.
What do you think Tianjin Juilliard can bring to students in China?
There is so much talent, interest in classical music, and so many rich resources in China. Tianjin Juilliard offers chamber music as a graduate program, which, to me, is the pinnacle of music-making. The School will offer a holistic musical education. Theory, ear-training, private lessons, chamber music, and orchestra all hold great importance combined with academic, extra-curricular, aspirational, or personal aspects of each student's life. This combined with great talent and discipline can foster a community of creativity, proactivity, and success. I am also excited to see what both Juilliard and classical music will gain from closer exposure to Chinese culture – there is such a wealth of knowledge, creativity, and tradition that extends beyond our traditional parameters!
What is your teaching approach for Pre-College?
As violinists, we are lucky to have centuries' worth of fascinating repertoire, performers, equipment and technical evolutions and pedagogy to consult. For younger students, there will be an emphasis on more rigorous fundamental work along with developing a critical and honest ear towards the sounds one makes on the violin (including how to practice!). With advanced students, it is fulfilling to explore topics like harmony, structure, expectation and realization, historical context, and philosophy with greater nuance. I think every student can bring something new to the process of teaching – it is not a one-way street!
What's coming up next for you?
I have many wonderful friends and colleagues at Tianjin Juilliard and I am looking forward to developing new projects together with my new colleagues. For the first year, since we will focus mostly on the Pre-College program, the resident faculty will spend a lot more time rehearsing and performing together, Sunday through Friday. In terms of other projects, as the recipient of the John Erskine Faculty Prize, I will be working with composer Chen Yi to commission choreography to my live performance of her work for solo violin, Memory. We will perform this in China and the U.S. I am also working on a book project with my mother about teaching and playing violin.