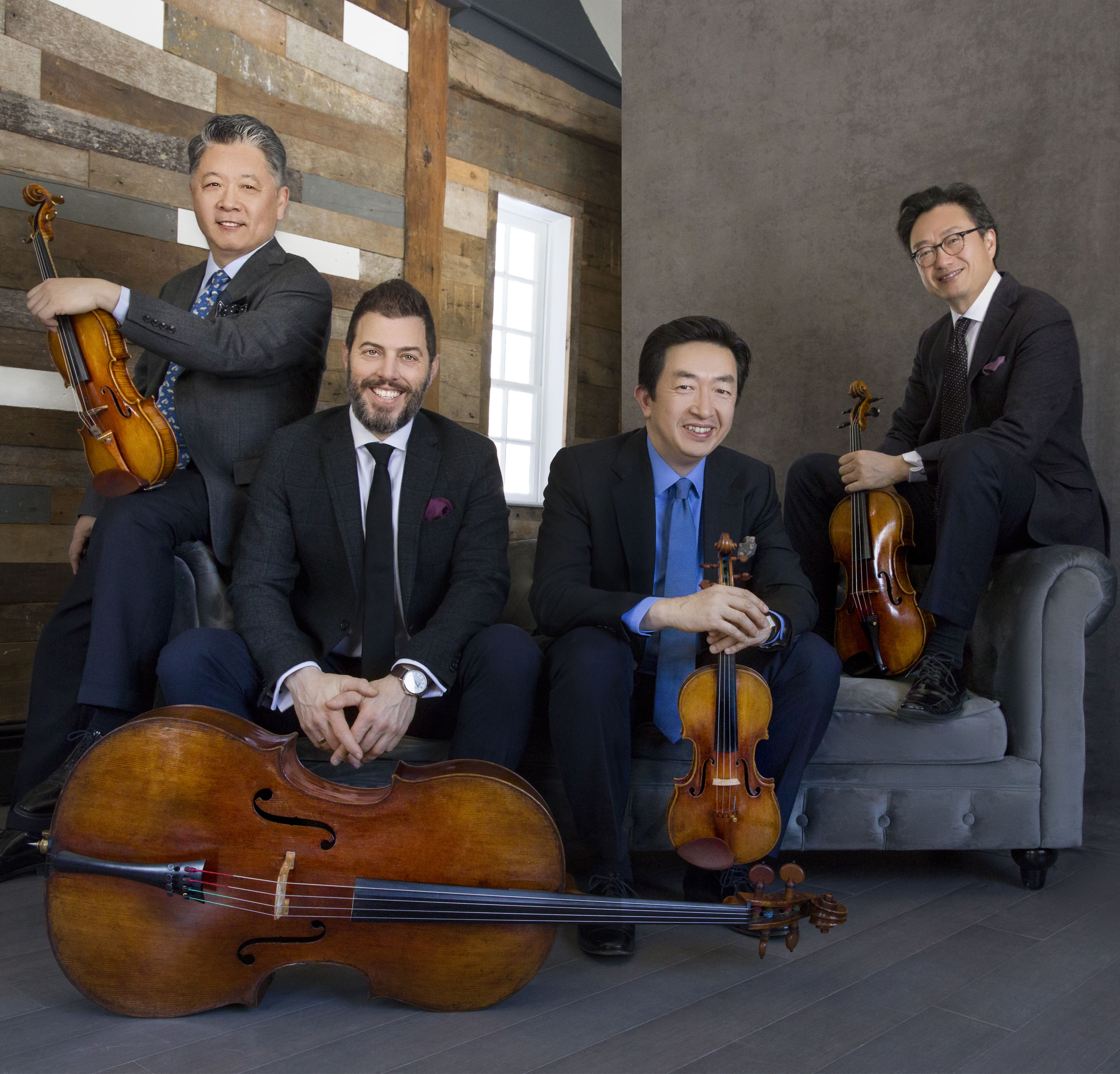 The Shanghai Quartet. Photo credit: Lisa-Marie Mazzucco
TIANJIN, CHINA – The Tianjin Juilliard School announces the appointment of the members of the Shanghai Quartet as the school's newest resident faculty, starting in fall 2020. The members of the Shanghai Quartet are violinists Weigang Li and Yi-Wen Jiang, violist Honggang Li, and cellist Nicholas Tzavaras. As resident faculty, the members of the Shanghai Quartet will coach chamber music students and give individual lessons to graduate students in Tianjin. They will also perform with students majoring in chamber music as well as with other distinguished resident faculty members from The Tianjin Juilliard School.
Wei He, the dean and artistic director of The Tianjin Juilliard School, said, "We are thrilled to have members of the Shanghai Quartet join the resident faculty of the school. They are brilliant musicians and inspiring educators who will propel Tianjin Juilliard into the center of chamber music education in China, East Asia, and beyond. Throughout their 36 years as a leading chamber music ensemble, they have explored and pursued the highest levels of excellence in collaborative musicianship. They will work and play alongside graduate students majoring in our chamber music program. The appointment of Shanghai Quartet members signals a new era of chamber music education in China."
Alexander Brose, the executive director and C.E.O. of The Tianjin Juilliard School, said, "As a longtime admirer of the Shanghai Quartet's artistry and legacy, it is an absolute joy to welcome Weigang, Yi-Wen, Honggang, and Nicholas to the Tianjin Juilliard family. Each and every member of our student body will surely benefit from their presence in our landmark campus in Tianjin. Dean He and I are confident that their continued impact on classical music in China will be tremendous. I cannot wait to observe them guide the next generation of classical musicians at our school."
The Shanghai Quartet's cellist Nicholas Tzavaras said, "All of us in the Quartet are extremely excited to join the resident faculty of The Tianjin Juilliard School and continue to bring chamber music to the forefront of music education in China. We look forward to working with the inaugural class of chamber music graduate students in 2020, and developing wonderful musical collaborations with our colleagues at The Tianjin Juilliard School."
Renowned for its passionate musicality, impressive technique and multicultural innovations, the Shanghai Quartet has become one of the world's foremost chamber ensembles. Its elegant style melds the delicacy of Eastern music with the emotional breadth of Western repertoire, allowing it to traverse musical genres including traditional Chinese folk music, masterpieces of Western music and cutting-edge contemporary works. Formed at the Shanghai Conservatory in 1983, the Quartet has worked with the world's most distinguished artists and regularly tours the major music centers of Europe, North America and Asia. Recent festival performances range from the International Music Festivals of Seoul and Beijing to the Festival Pablo Casals in France and the Beethoven Festival in Poland, as well as numerous concerts in all regions of North America. The Quartet is Quartet-in-Residence at the John J. Cali School of Music at Montclair State University in New Jersey, a position they have held since 2002.
Shanghai Quartet Members
A native of Shanghai, violinist Weigang Li began studying the violin at 5 and went on to attend the Shanghai Conservatory at age 14. In 1985, upon graduating from the Shanghai Conservatory, Li continued his studies at Northern Illinois University. He later studied and taught at The Juilliard School as teaching assistant to the Juilliard Quartet. He made his solo debut at 17 with the BBC Symphony Orchestra and has appeared as soloist with Shanghai Symphony, China Philharmonic, BBC Scottish Symphony, and Asian Youth Orchestra. Li is a founding member and first violinist of the Shanghai Quartet.
A native of Beijing, violinist Yi-Wen Jiang started his violin studies at age 6. Jiang made his concerto debut at the age of 17 with the Central Opera House Orchestra in Beijing. After winning top prize at the first China Youth Violin Competition in 1981, Jiang was accepted to study at the Central Conservatory of Music. In 1985, Jiang studied with Taras Gabora and Michael Tree in the U.S. He also worked with Arnold Steinhardt of the Guarneri Quartet at Rutgers University. As a composer, Jiang has arranged over 50 pieces for string quartet and other instruments, many pieces composed with Eastern repertoire and Western influence. Jiang joined the Shanghai Quarter in 1994.
A native of Shanghai, violist Honggang Li began violin studies with his parents at the age of 7. He co-founded the Shanghai Quartet with his brother Weigang Li while in his senior year in the Shanghai conservatory. The quartet became the first Chinese quartet to win a major international chamber music competition (1985 Portsmouth International String Quartet Competition) and came to the U.S. in 1985. He received a MM from Northern Illinois University and served as a teaching assistant at The Juilliard School in New York. In 1987, he won the special prize (a 1757 DeCable violin) given by Elisa Pegreffi of Quartetto Italiano at the First Paolo Borciani International Competition in Italy.
A native of New York City, cellist Nicholas Tzavaras began violin studies with his mother, renowned pedagogue Roberta Guaspari-Tzavaras, at age 2 and moved to the cello when he was 6 years old. He has toured the globe as a chamber musician, soloist and educator for the past two decades. Tzavaras is guest principal cellist of the Shanghai Symphony Orchestra since 2009. A graduate of the Bronx High School of Science, he went on to study at Tufts University, receiving degrees from the New England Conservatory and the State University of New York at Stony Brook before joining the Shanghai Quartet in 2000.
About The Tianjin Juilliard School
The Tianjin Juilliard School brings Juilliard's artistic and educational mission to a wider global audience. The Tianjin Juilliard School will be the first performing arts institution in China to offer a U.S.-accredited Master of Music degree. This new campus will offer a graduate program for a Master of Music degree from Juilliard in orchestral studies, chamber music, or collaborative piano; a Pre-College program for students ages 8-18; an instrumental training program; adult education; and public performances.
Juilliard is developing the school in partnership with The Tianjin Conservatory of Music, the Tianjin Economic-Technological Development Area (TEDA), and the Tianjin Innovative Finance Investment Company (T.I.F.I.). The Tianjin Juilliard School will be a center for performance, practice, research, and interactive exhibitions, with communal spaces that are designed to welcome the public into the creative process and performance of music. 
About The Juilliard School
Founded in 1905, The Juilliard School is a world leader in performing arts education. Juilliard's mission is to provide the highest caliber of artistic education for gifted musicians, dancers, and actors from around the world so that they may achieve their fullest potential as artists, leaders, and global citizens.
Located at Lincoln Center in New York City, Juilliard offers undergraduate and graduate degrees in dance, drama (acting and playwriting), and music (classical, jazz, historical performance, and vocal arts). Currently more than 800 artists from 42 states and 45 countries are enrolled at Juilliard, where they appear in more than 700 annual performances in the school's five theaters; at Lincoln Center's Alice Tully and David Geffen halls and at Carnegie Hall; as well as other venues around New York City, the country, and the world. Beyond its New York campus, Juilliard is defining new directions in global performing arts education for a range of learners and enthusiasts through The Tianjin Juilliard School and K-12 educational curricula.
# # #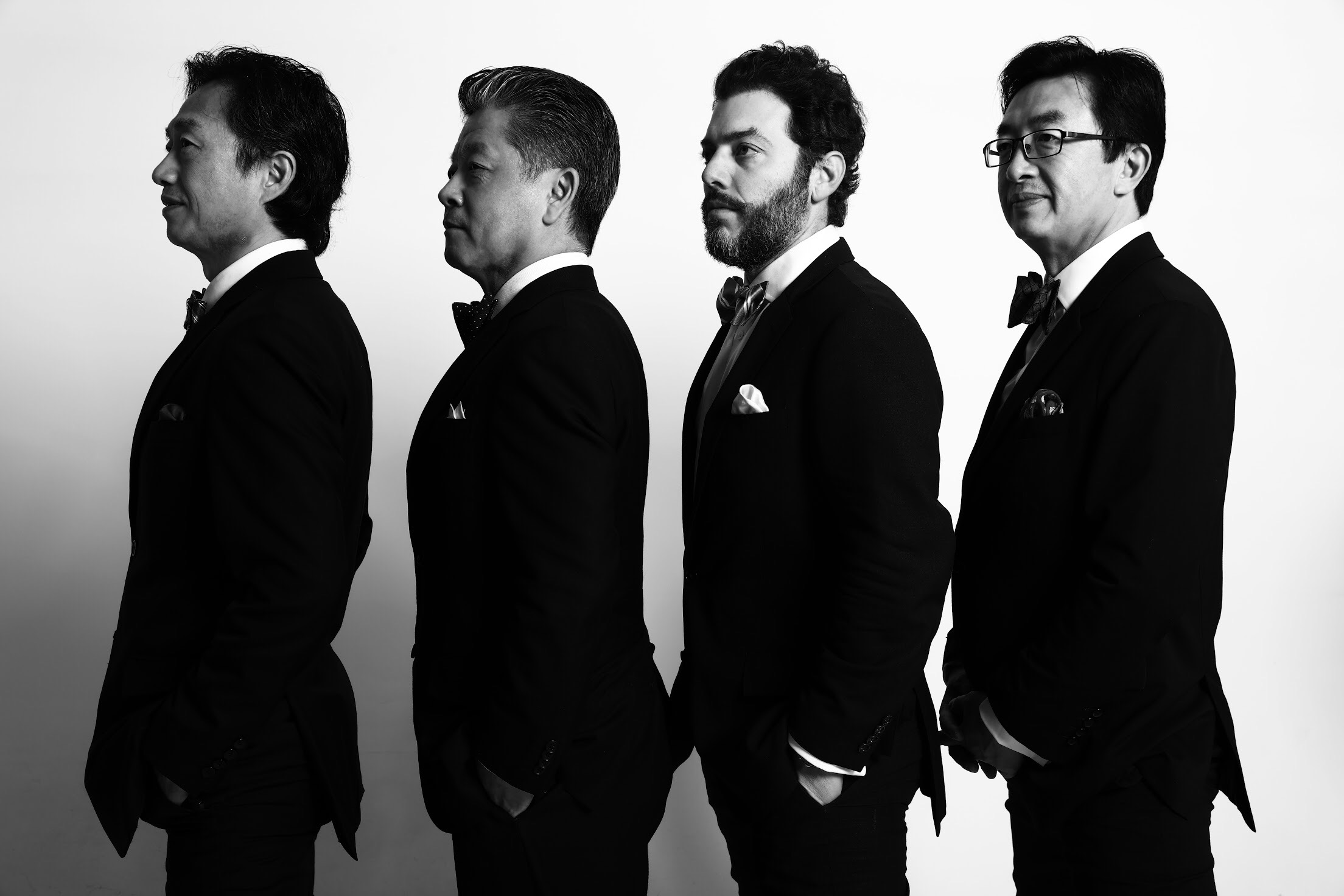 Shanghai Quartet. From left to right: Honggang Li, Yi-Wen Jiang, Nicholas Tzavaras and Weigang Li. Photo credit: Yan Dong