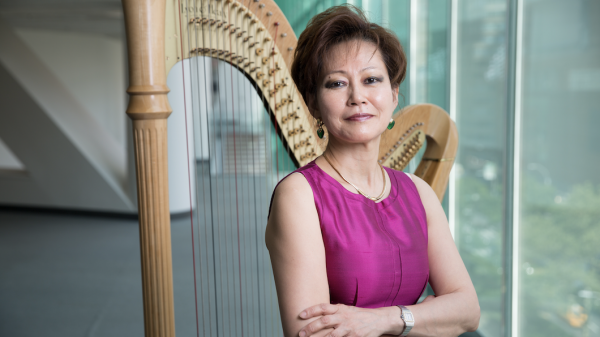 Kyunghee Kim-Sutre's Inspiring Music Discoveries
Born in Seoul, harp faculty member Kyunghee Kim-Sutre was the first prize winner of the Elizabeth Herbert Hobin Harp Competition in 1987. She began her musical studies on the piano at age 8. During that time, a young friend introduced her to the harp and she took on learning both instruments. Her growing interest in the French repertoire for the harp led her to move to France after studying at Curtis Institute of Music and Indiana University, where she continued her education at the Paris Conservatoire Supérieur de Musique. 

Kim-Sutre teaches harp at both Graduate and Pre-College levels at Tianjin Juilliard. She noted that "Tianjin Juilliard has placed great importance on the role of the harp, from performances to the curriculum. We get to explore and discover magnificent repertoire together!" Harp is currently offered as a major under Tianjin Juilliard's Orchestral Studies graduate program, and the application is now open for 2021 matriculation. 

Read on about harp faculty member Kyunghee Kim-Sutre on teaching at Tianjin Juilliard, her lifelong passion for discovering forgotten harp repertoire, and how it led to her longtime collaboration with her husband and Tianjin Juilliard violin faculty member Guillaume Sutre.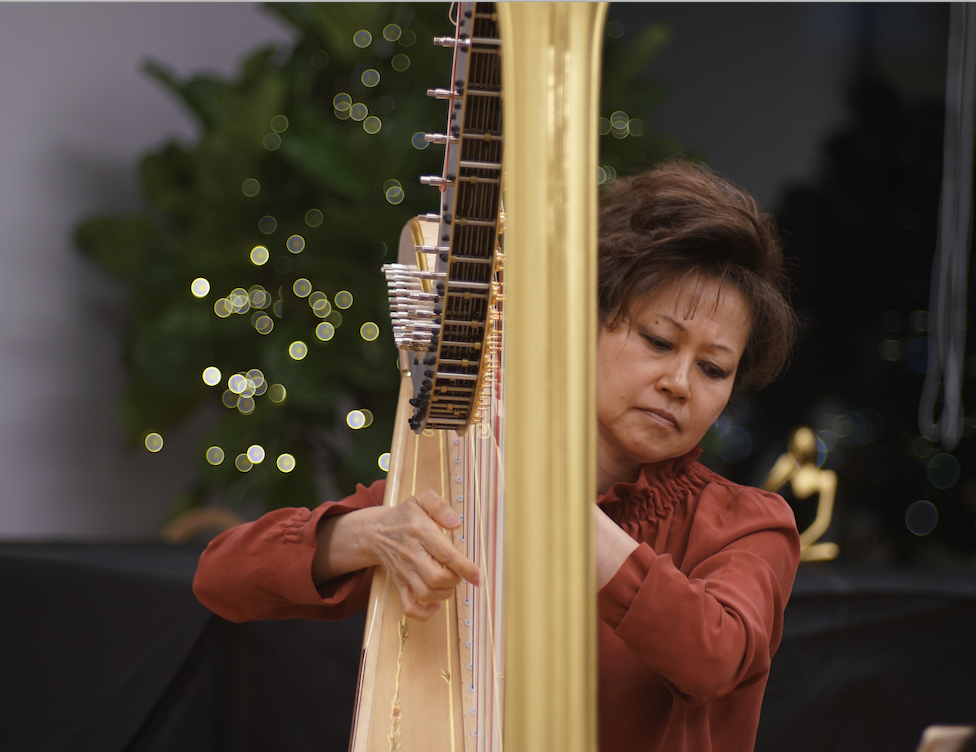 Photo Credit: Zhang Di 
You have put in tremendous effort to expand harp repertoire. What's the motivating force?  
The harp continues to evolve throughout music and the composers of our time. Guillaume and I regularly commission new pieces for our violin and harp duo, such as The Shadow of Arirang composed by Paul Y. Lee which is featured in our album Parfums d'Amour. There are a lot of music scores originally composed for the harp, solo or with other instruments, that are currently housed in public libraries around the world and have not yet been discovered. For a very long time, we have been doing research to enlarge the unusually small known repertoire then known for violin and harp. We are very happy and proud to record these pieces and to give them a new life. It is always a pleasure to talk to music lovers, students and professional musicians after concerts when they come to ask about a piece, or a composer they had never heard of, and express how surprised they were by the beauty of these undiscovered masterpieces. 

Can you share some of your favorite repertories? 
In my first album, Dussek Jan Ladislav & Sophia: Harp Sonatas recorded about 25 years ago, I focused on pieces composed for the harp by pianist Jan Ladislav Dussek. He was married to Sophia Corri Dussek, a soprano, pianist, and famous harpist. I discovered that many pieces attributed to him were actually composed by her with her husband's name listed as the composer because it was not acceptable to be a female composer at that time. I did extensive research and found many very high quality works composed by her and yet they unfairly disappeared from known repertoire. I was so impressed that I decided to record an album exclusively with her Favorite Airs arranged for the Harp. 
In my album, The Consoling Harp, the inspiration was very different. Well-known works are showcased alongside forgotten and disappeared ones, but all share the commonality of having been composed by French composers, indirectly or indirectly involved in the First World War.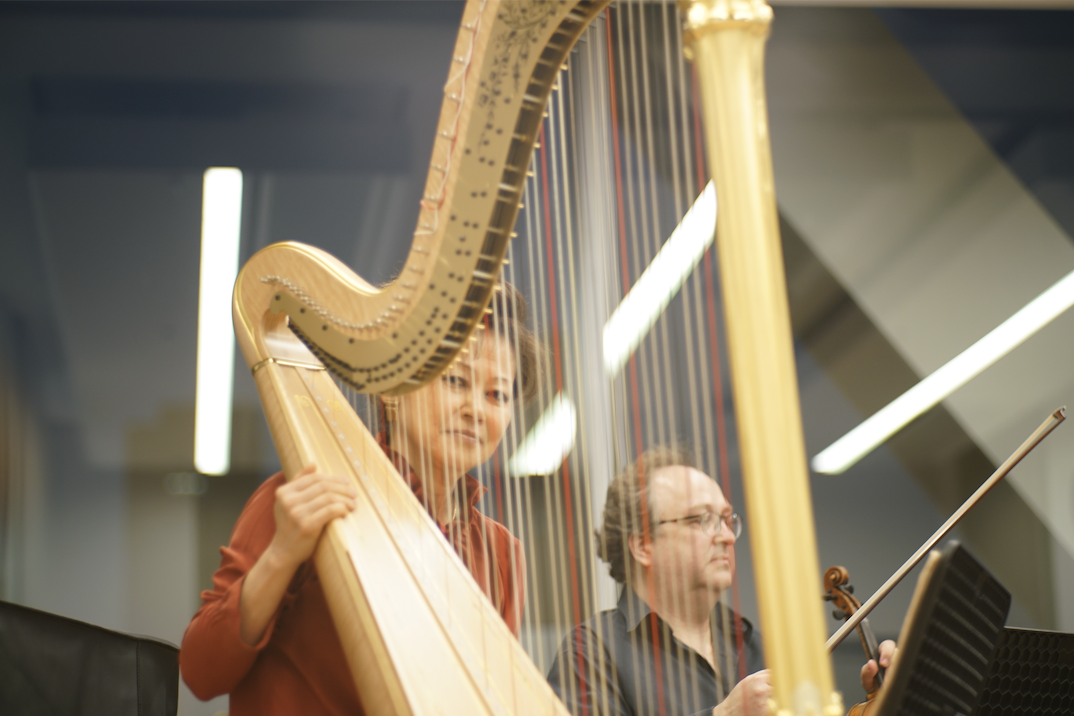 Kyunghee Kim-Sutre and Guillaume Sutre at the Tianjin Juilliard School Photo Credit: Zhang Di
How did you meet your longtime collaborator and husband Guillaume Sutre?
Our violin and harp duo was formed almost 30 years ago! We met for the first time in Bloomington, Indiana, then we lost contact for a while. By chance, we were invited to attend the concert of a mutual friend in Paris. After the concert, we took the metro together and I asked him if he knew a violinist who would be interested in participating in a violin and harp duo for a chamber music competition. He immediately replied yes, that he knew someone: himself! Soon after, we started rehearsing and won the 'Lily Laskine' Chamber Music Competition together. Not long after that, we got married and our collaboration has continued since then! 
What's the role of the harp in music education and performances at Tianjin Juilliard?   
At Tianjin Juilliard, the harp is an important instrument in concerts as well as in its curriculum. During our tours in China and other parts of Asia, many concerts featuring the Tianjin Juilliard Ensemble include a chamber music work with harp. In parallel, the Pre-College chamber music program presents wonderful opportunities for young students to learn and perform this magnificent repertoire along other instruments. It is very important to give the harp its place among the other instruments, and not have it live in isolation. This is also why the harp is grouped with other stringed instruments for the end-of-year exams. I am brought in to judge violinists and other string students, while my students are judged by the other teachers of the string family. I often tell my students that receiving feedback from teachers who are not necessarily familiar with their instrument is always very beneficial.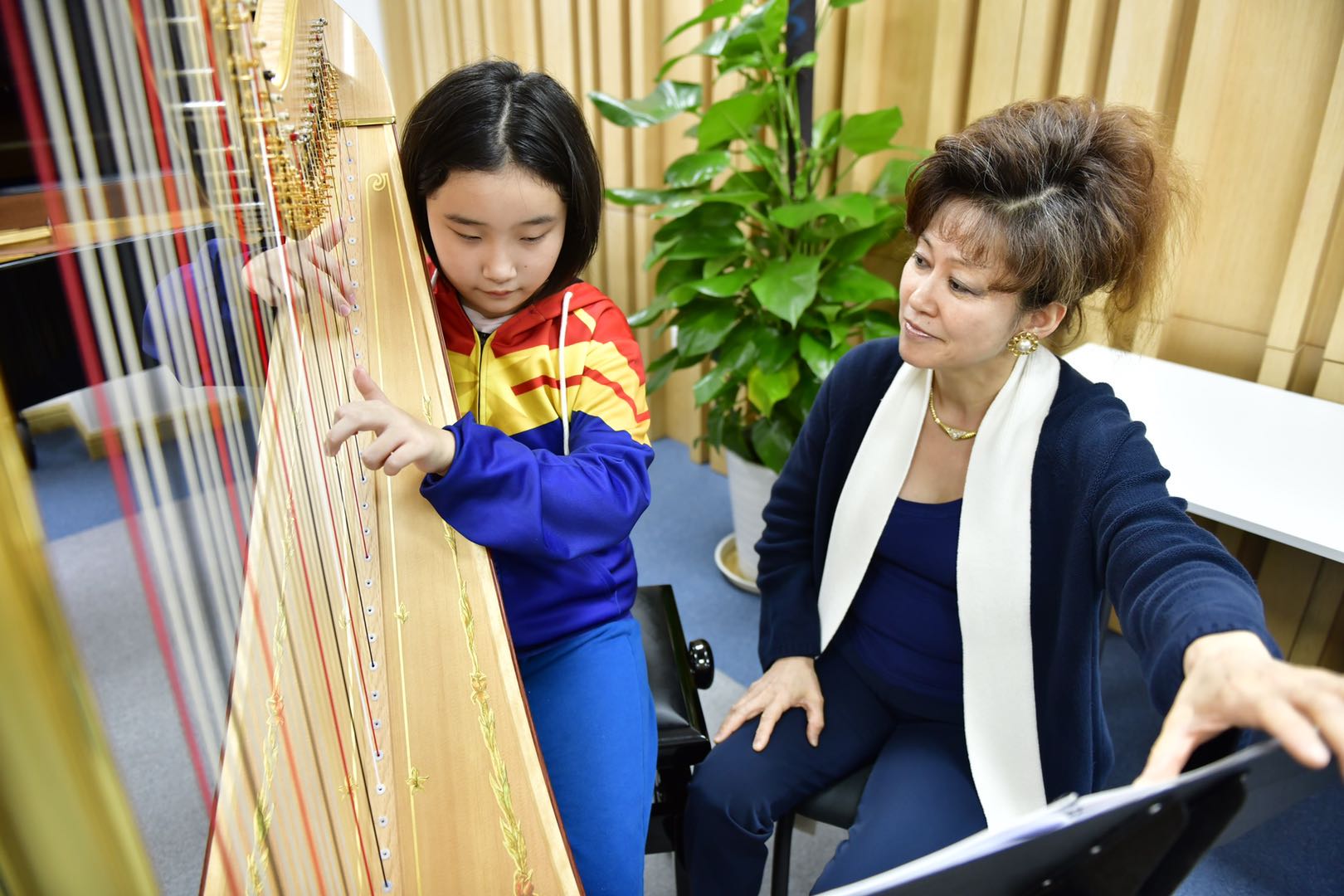 Kyunghee teaching a Pre-College student. Photo Credit: Duan Chao
What's your teaching approach?
My teaching approach depends on the age and level of the student. For example, with very young students, it is so important to find ways to help them develop their concentration skills by using creative methods. For the older ones, they have to learn how to become their own teacher so that they can improve their practicing at home. It's important to adapt your teaching methods to each student, as everyone is different. 
To me, teaching is something fundamentally a part of the human experience, it comes very  naturally. If I can be of help to support the students' progress, help them to develop skills to become better musicians, and to inspire their happy learning and playing, then it becomes my own happiness! Personally, it is so vital to transmit to younger generations what I learned from my teachers, as well as share my personal experiences of performing and recording over the last 30 years. 
What do you value most from your students? 
My students are very generous in spirit and they like to work together and help each other. I expect them to be attentive to all aspects of playing in their practicing, and to be open minded. I feel very close to my students, sometimes like a mother. At the same time, I am particular about certain values, such as respect. 
Would you like to share any advice with prospective students?
There are a lot of music scores originally composed for the harp in public libraries around the world. They are hidden gems. I encourage harpists to be more curious about them. Too often harpists learn the same usual pieces. If a harpist lacks curiosity, there is a loss of opportunity to discover the wider musical heritage. Dig through the library and rediscover all this beautiful forgotten repertoire! For a very long time, I have been researching these scores and I feel proud to record them and give them a new life. I hope the beauty of these masterpieces will truly surprise and inspire them as well.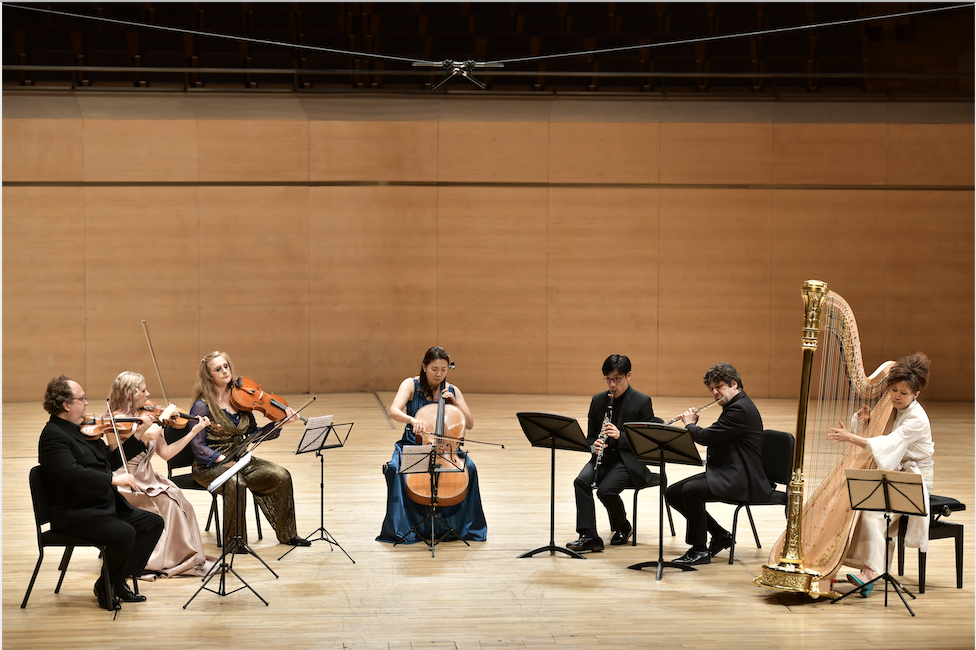 Kyunghee with the Tianjin Juilliard Ensemble at the 2nd Chamber Music Festival.  Photo Credit: Duan Chao