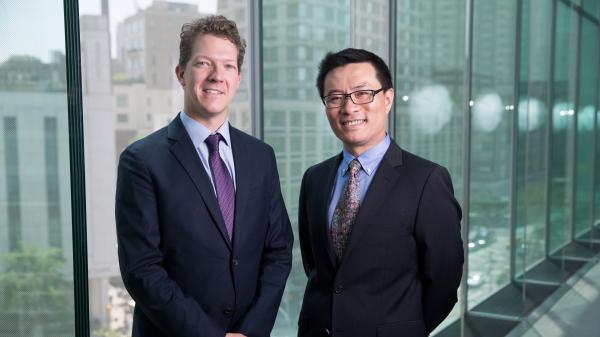 NEW YORK – The Juilliard School announced today that it has selected Alexander Brose, vice president for development at the Aspen Music Festival and School, to serve as the first executive director and C.E.O. of The Tianjin Juilliard School, Juilliard's new campus in Tianjin, China. Wei He, longtime professor at the San Francisco Conservatory of Music and artistic director of the annual San Francisco-Shanghai International Chamber Music Festival, will be the school's first artistic director and dean.
Mr. Brose and Mr. He, who will relocate to Tianjin later this year, will play critical roles in establishing Juilliard's artistic and educational values in the new school, welcoming the inaugural class of students in 2019, and ensuring the highest quality student experience once classes commence. Mr. Brose's key responsibilities in the near term will be to develop the Tianjin-based administration, play an active role in the development of the new building, and work with Juilliard's partners in China: Tianjin Innovative Financial Investment Company (T.I.F.I.), the Tianjin Binhai New Area C.B.D. Administrative Commission, and the Tianjin Conservatory of Music, to complete the remaining regulatory approvals. Mr. He will lead the development of the resident faculty of The Tianjin Juilliard School and plan the school's artistic programming.
The Tianjin campus is an important component of President Joseph W. Polisi's vision to bring performing arts education to a broader global audience. President Polisi first announced The Tianjin Juilliard School on September 28, 2015, in New York in the presence of the first lady of China, Mme. Peng Liyuan, marking a key milestone in Juilliard's multifaceted expansion in Asia.
"I am pleased to welcome Alex Brose and Wei He to the Juilliard family," said Polisi, who is also the chairman of The Tianjin Juilliard School's board of directors. "Throughout their distinguished careers, they have demonstrated an unwavering commitment to performing arts education. I can imagine no better pair of individuals to preside over this new chapter in Juilliard's history and to continue our tradition of artistic and educational excellence."
The school, which will be designed by the New York-based architectural firm Diller Scofidio + Renfro, is the first performing arts institution in China to offer students a U.S.-accredited master's degree. Students in the Tianjin program will be held to the same rigorous standards as in New York, and graduates will receive a degree from Juilliard. In addition to the Juilliard degree program and public performances, The Tianjin Juilliard School will also offer an audition-based pre-college program and open enrollment courses for adults, professionals, and children.
With Brose and He at the helm, The Tianjin Juilliard School will follow in the footsteps of its namesake, growing into a vibrant center for performing arts excellence and a destination for aspiring musicians, leaders from Juilliard's renowned network of artists, and arts enthusiasts in and around Tianjin, greater Beijing, and across East Asia. This new extension of Juilliard also presents an opportunity to forge stronger ties between China and the United States through artistic expression.
Alexander Brose and Wei He have nearly 40 years of combined experience working in classical music performance and education in both the United States and China. In addition to their exceptional track records as artists, administrators, and educators, both executives bring a deep understanding of China's rich artistic heritage to their new roles as well as a demonstrated passion for fostering artistic ties between the East and West.
"I am profoundly honored to have been asked to be The Tianjin Juilliard School's first executive director and C.E.O.," Mr. Brose said. "I very much look forward to bringing Juilliard's pre-eminent training and teaching to aspiring students of Western classical art music in China and across the globe. I'd like to give my sincere thanks to Joseph Polisi; Ara Guzelimian, Juilliard's provost and dean; and the entire Juilliard team in New York for giving me and my family this unparalleled opportunity."
"It is my privilege to be able to serve as part of the Juilliard community and to contribute to the future success of The Tianjin Juilliard School," Mr. He said. "Through this position, I hope to help the school foster better understanding and collaboration through the arts between our two great nations, making this new venture into a critically important and indispensable link in our complex and internationalized era."
About Alexander Brose
Alexander Brose, selected as The Tianjin Juilliard School's first executive director and C.E.O, is currently the vice president for development at the Aspen Music Festival and School in Colorado and as such is responsible for all fund-raising activities, including raising annual operating expenses in the amount of $6.5 million as well as working to complete the $75 million Where Dreams Begin Campaign, for which $73 million has been raised. Mr. Brose has nearly 20 years of experience working in classical music performance and education in both the United States and China.
Prior to joining Aspen in 2012, Mr. Brose spent the previous 11 years at the San Francisco Conservatory of Music, the West Coast's oldest school of music, first as assistant director of admissions, as director of admissions, and finally as associate vice president for advancement. While at the San Francisco Conservatory, Mr. Brose used his Mandarin Chinese language skills to initiate frequent recruitment and relationship-building trips to China and other regions of East Asia, working closely with the Central Conservatory of Music in Beijing, the Sichuan Conservatory of Music in Chengdu, the Hong Kong Academy of Performing and Visual Arts in Hong Kong, the Yong Siew Toh Conservatory of Music in Singapore, and, ultimately, with the Shanghai Conservatory of Music. It was in Shanghai that he masterminded the development of a sister school relationship between Shanghai and San Francisco, leading to the creation of the annual San Francisco-Shanghai International Chamber Music Festival, which he produced and co-curated for two years before leaving for Aspen.
Raised in South Korea and Hong Kong, Mr. Brose received his BA in Asian studies, with a concentration in China, from Cornell University in Ithaca, N.Y. A trained vocalist, he has performed in concert venues across the globe, including on the nationally syndicated radio show A Prairie Home Companion, at the Seoul National Arts Center in South Korea, as part of the Glimmerglass Festival in Cooperstown, N.Y., and with the Grammy Award-winning San Francisco Symphony Chorus. He currently serves as a member of the board of governors with the San Francisco Chapter of the Recording Academy (Grammys) and on the advisory council of the Cornell University Glee Club, Cornell's oldest student organization.