New Music Ensemble and Music Theory faculty Yiwen Shen shares his reflections on composing and the art of dialogue through music.  
By Yiwen Shen
I began studying piano at the age of 4 and learning composition at the age of 9. As a young musician, I studied at the Shanghai Conservatory of Music under Professor He Xantian. My teachers in China advised me in the art of composing from an early age. Professor He encouraged my efforts to 'be a thinker when composing music' and challenged me to think about things that others may not have thought about.
Later on, I spent over a decade studying in the United States at several institutions including Bard College Conservatory of Music, the University of Maryland, and Juilliard. Having experienced the best of different music education systems, I gained a lot of insight into composing. Music education in American conservatories prioritizes the performance experience. Student instrumentalists perform concerts every year, and the composition majors create new works and have them performed annually. Composition majors create the pieces on paper and find out what adjustments to make in order to get the best sound out of the instruments through the performance. Performance is an important part of creating the work.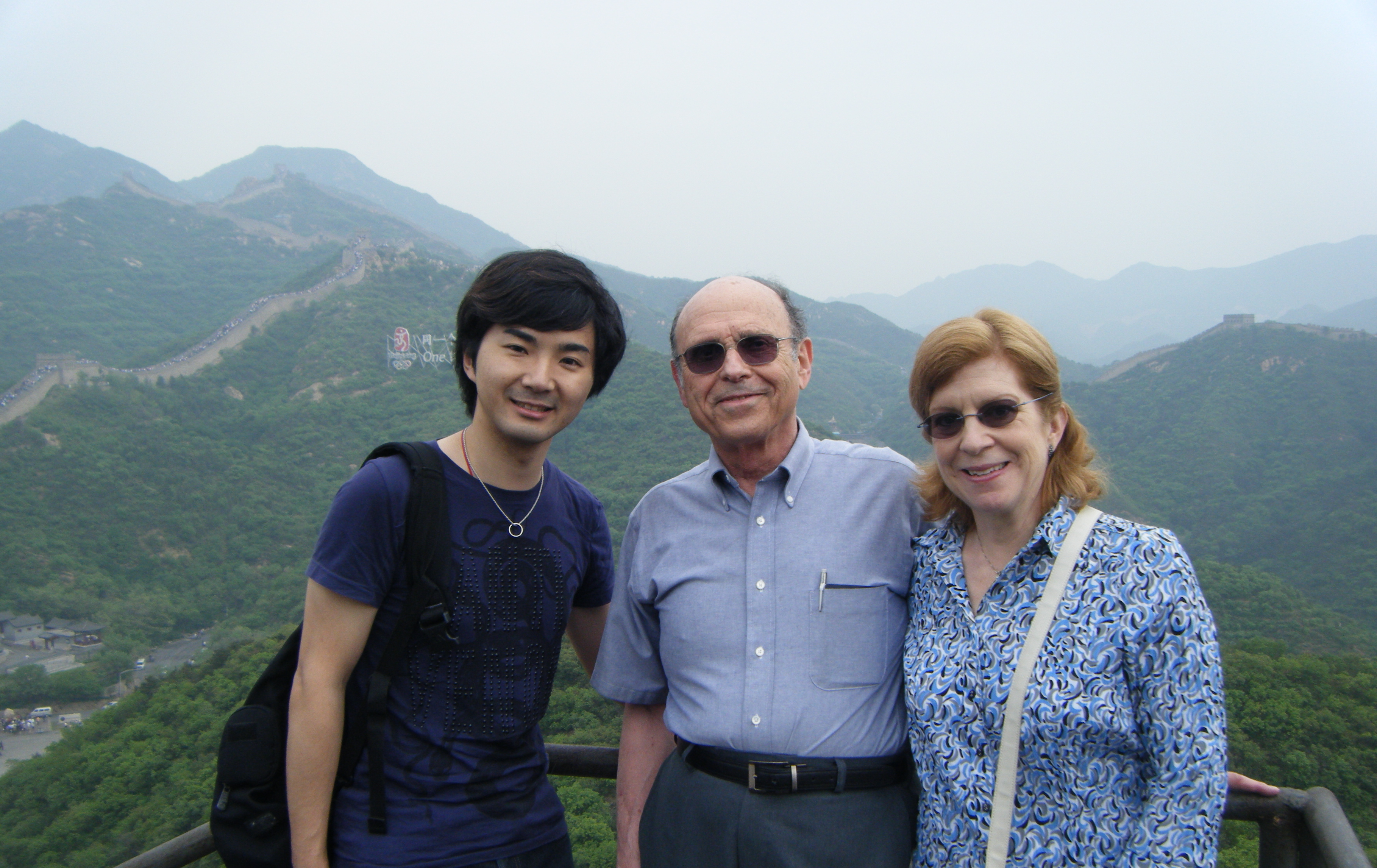 Shen Yiwen with his teacher, Samuel Adler in China. Photo credit: Shen Yiwen 
At Juilliard, where I earned a master's degree and doctorate in composition, one of my teachers, Samuel Adler advised me on writing my own music to touch the hearts of audiences. My fellow classmates and I went out often to perform in different communities. We visited hospitals, nursing homes, and even prisons, sharing our joys and sorrows through music with audiences who were not able to go to concert halls. Many schools in the United States advocate liberal arts education and offer dedicated courses to cultivate well-rounded students. Juilliard's President Emeritus, Joseph W. Polisi advocated the concept of 'Artist as Citizen.' Through social responsibility, we infuse our music with more meaning and vitality.
Yiwen Shen with Joseph W. Polisi at Juilliard's Commencement. Photo credit: Yiwen Shen 
While studying at Juilliard, I served as assistant conductor of the Juilliard Orchestra. An orchestra trains you to collaborate. Orchestra members have to consider the group and not focus only on the individual. Can the 16 members of the first violin section play as 1? Can 12 woodwind instruments still achieve balance and unity of sound despite their different timbres? These are all factors that we may not consider when we practice any instrument by ourselves. Training in an orchestra teaches you how to listen more actively to others when performing in an ensemble, while also increasing awareness of the overall musical structure during individual practice. At Tianjin Juilliard, we want students to value collaboration and become excellent collaborators.
Music education in China includes four major courses: harmony, counterpoint, musical form, and orchestration. At Juilliard, orchestration is a compulsory course for the composition majors. Harmony, counterpoint, and musical form make up the music theory instruction offered to students. The ultimate goal of music theory instruction is to help with performance. Students can apply theoretical knowledge to the solo or ensemble works being studied, and add their own interpretations based on a better understanding of the composer's intention.
For graduate students interested in New Music Ensemble at Tianjin Juilliard, I believe that this course will help broaden students' musical horizons. When students practice, they may focus on the classics, and have few opportunities to try new works. Many of the works in the New Music Ensemble course may not have been premiered, perhaps they have never been recorded before, or may require techniques that many students have not encountered before. Therefore, students must be curious, experimental, and exploratory. Curious students will welcome and seek challenges in unchartered waters. There is no right or wrong in music. What we try to avoid is following existing rules rigidly.Students will be trained to understand the original music notation by the composers without relying on external sources such as recordings, then effectively implementing these techniques on the instrument. The music of Mozart and Beethoven was once considered 'new music.' If musicians from each era only played works from the past and not the present, then we might not have had the opportunity to hear Mozart and Beethoven today.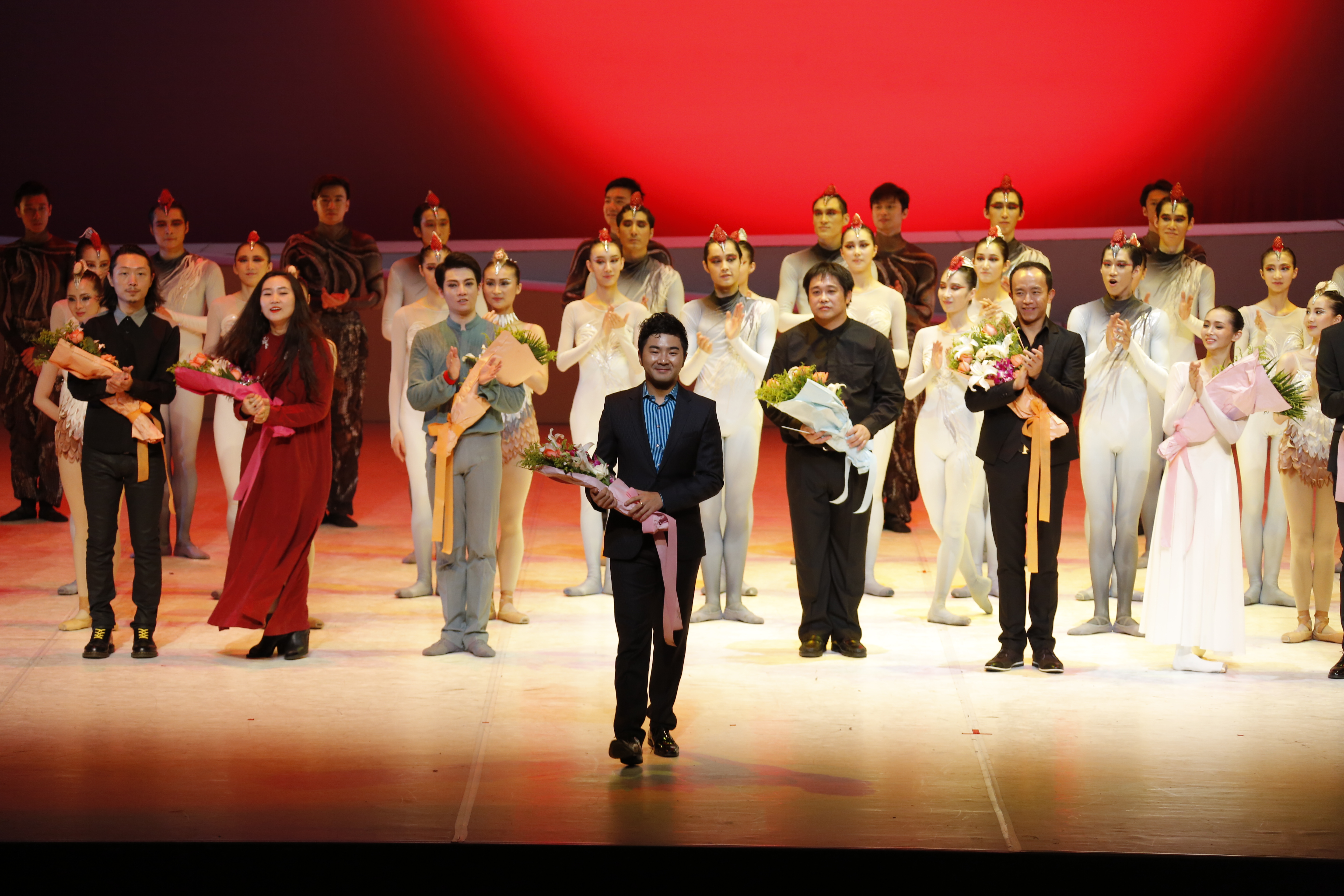 Curtain call at the Crane Whisperer ballet. Photo credit: Ren Shi 
Building dialogue between Chinese and Western classical music
I have composed works for symphonies, operas, ballets, chamber ensembles, instrumental solos, vocal solos, choruses, and more. I am interested in shining a spotlight on Chinese music on the global stage. In 2011, Carnegie Hall commissioned me to create a work for renowned soprano Dawn Upshaw. Taking Leave of a Friend is a vocal work set to Li Bai's poems, inspired by Mahler's inclusion of Chinese poetry in Das Lied von der Erde. The New York Times reviewed the concert, and stated that the work had a "lucid, economical lyricism handed down by Barber and Rorem."
Back when I was a student at the middle school affiliated to the Shanghai Conservatory of Music, I shared the stage with my classmates who majored in Chinese traditional instruments. I was also a collaborative pianist on many occasions. Having appeared in the album recording of Magical Flute of China by Chinese flute artist, Tang Junqiao, the experience gave me a comprehensive understanding of traditional Chinese instruments and music, sending me down the path of composing for solo Chinese instruments such as pipa, Chinese bamboo flute, erhu and guzheng. Such works include Yong (Terracotta), Su (Tracing Back), Qiu (Life Companion) and Si (The Sacrifice). They represented my attempts at building dialogue between Chinese and Western music. I wove Indian American rhythms and Jewish elements into works of traditional Chinese music, while Chinese literature is always in the background of my Western instrumental works. Music has no borders. To understand the language of music successfully, one has to keep listening, asking questions, and thinking about music. Knowing more will help you in composing.