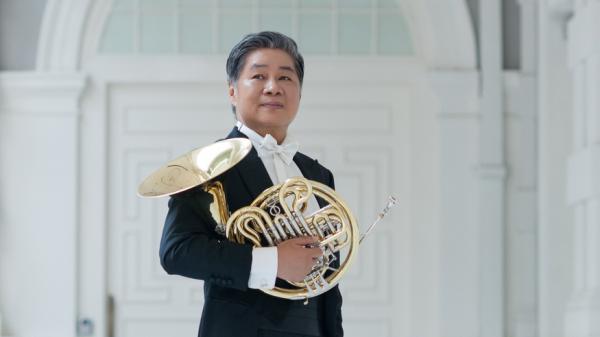 I value my students' motivation to learn. I want them to ask daring questions. I hope they are also interested in areas outside of music. To learn music, one has to be filled with imagination."— Chang Chou Han
Forty years ago, Chang Chou Han applied to study at Juilliard at the recommendation of the composer Wenzhong Zhou. At that time in China, the concept of studying abroad was still new and many students were unfamiliar with the application process. As a result, Han missed the opportunity to study abroad. Today, he is fulfilling a dream come true as the new resident horn faculty at Tianjin Juilliard, and is excited to bring all of his experiences and ideas to Juilliard's new school in China.
Han was born into a family of horn players in China. Han's father, Han Xian Guang, was a renowned horn player in China. The horn in the opening melody of CCTV's news program was played by his father. Han's uncle and younger brother are also horn players, so his family is truly a horn dynasty. He began studying the horn at age 13 and entered the Shanghai Conservatory of Music at the age of 14. At the conservatory, Han went through very intensive training under his father. Han has been a performer for 40 years and a professor at the Yong Siew Toh Conservatory of Music for 15 years.
Having spent many decades performing with various orchestras, Han has many observations to share. "European orchestras seem to value musical expression and emphasize musical styles, while American orchestras have very high standards for foundational training, with an emphasis on excellent rhythm and intonation. Asia is an emerging frontier for classical music. We do not have Europe's strong traditions or the American standard of training. As a result, we can learn from everyone and cultivate our own performance style," he noted.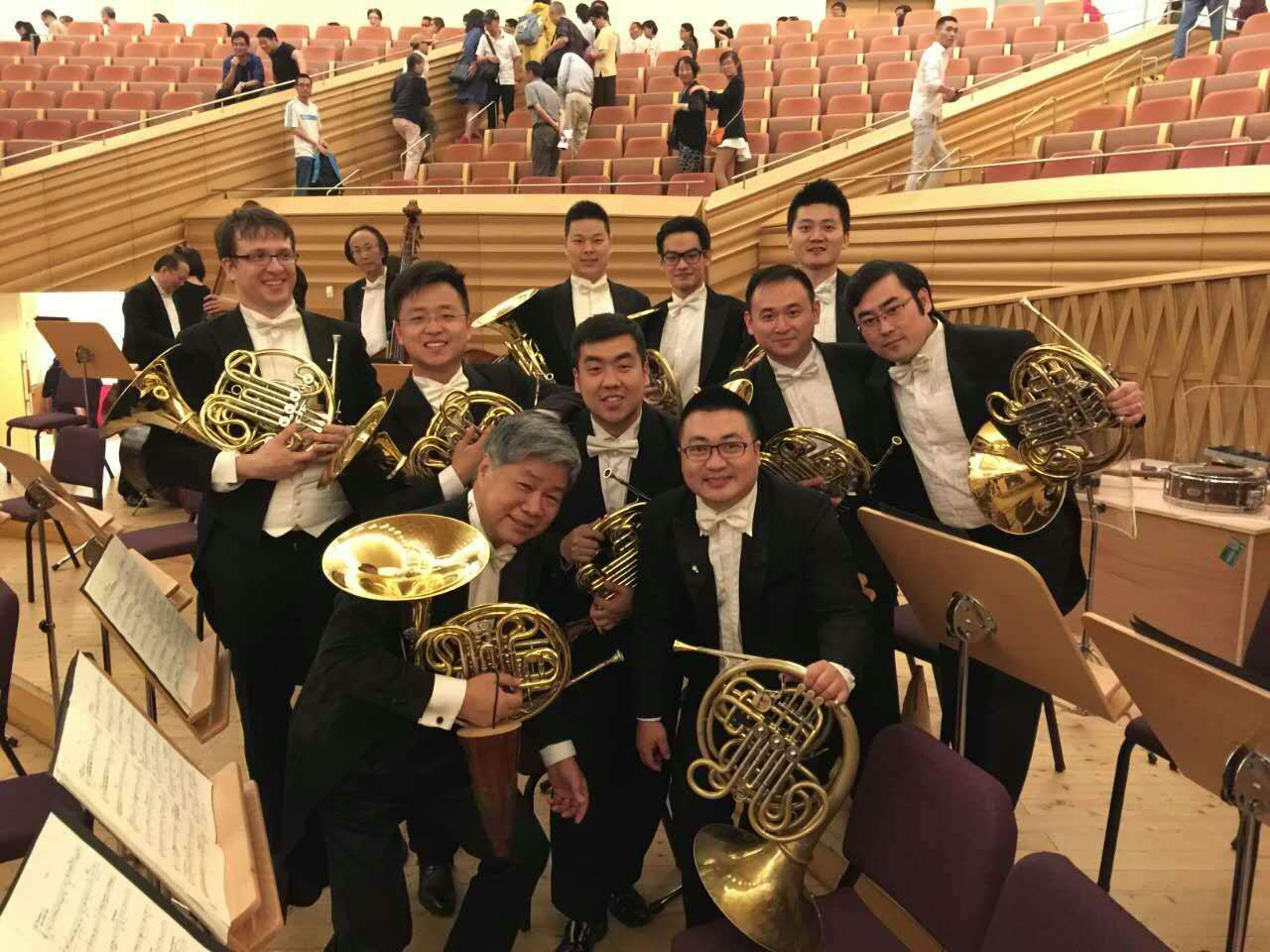 Chang Chou Han with the Shanghai Symphony Orchestra. Photo credit: Chang Chou Han 
What was a pivotal moment in your performing career?
In 1978, I joined the Beijing Central Philharmonic Orchestra in China (present day China National Symphony Orchestra) after graduating from college. A year later, Herbert von Karajan and the Berlin Philharmonic visited China. It was my first time witnessing a professional orchestra. From that moment, orchestral and chamber music became my life's calling.
What were some of the highlights performing with the Singapore Symphony Orchestra?
When I first joined the Singapore Symphony Orchestra as principal horn in 1987, the orchestra's professional management and music season were impressive. Especially for a musician from the Chinese classical music world, who had yet to connect with the rest of the world, it was all very new. Gerd Seifert, the former principal horn of the Berlin Philharmonic, joined the Singapore Symphony Orchestra 30 years later after that Berlin Philharmonic visit to China. We became colleagues. Seifert sat next to me and he was known for his strict standards. I felt that I made great progress as a musician playing alongside him for two years. Other highlights include collaborating with world-class conductors such as Mstislav Rostropovich, Claudio Abbado, and Seiji Ozawa.
Can you share one of the most memorable orchestral experiences?
One of my most memorable experiences was in Munich, where I was a guest performer with the Bavarian Radio Symphony Orchestra. We were to perform all of Tchaikovsky's Symphony No. 6. I had a tendency to play the horn very loudly back then, but on the first day of rehearsal, I discovered that I only needed to play at 2/3 of the original volume. Even though my personal volume was reduced, I noticed a unity in the overall tone was achieved during the performance. I also observed that the string instrument section sounded as if it was performed by one instrument. As a young musician back then, this helped me to understand how essential it was to achieve accurate tone and rhythm.
What do you enjoy most about teaching?
I feel a sense of accomplishment as a teacher helping students to solve their problems and improve their performances. This June, I have been giving lessons to musicians from the Shenzhen Symphony Orchestra, the Shanghai Symphony Orchestra, and the Guangzhou Symphony Orchestra. My student, Yichong Huang, was the acting principal horn of Guangzhou Symphony Orchestra. After five seasons, Yichong is now the principal horn. I am happiest when my students are making progress. As a teacher, I am always here for my students, for life!
What advice do you have for Pre-College students?
For brass instrument students, learning piano is very helpful, especially for intonation and rhythm. For kids 8 to 10 years old, practicing for one to two hours a day is enough. They should spend the rest of their time learning the piano, listening to music, watching music videos, and learning music theory and music history, to get a comprehensive understanding of music. It will be very conducive to their learning and development. Being interested in literature can also be beneficial. When I was young, two of my classmates' fathers were writers, and I started reading a lot of European classics in 6th grade. I felt it has greatly helped me in my music career later on.
Do you have any final words of wisdom to share?
As performers, we have very high standards for tone, which sounds simple but is actually very difficult. I often ask my students to record their rehearsals privately and compare it to their actual performances. They might notice if the tone, pitch, or rhythm was incorrect. Mastering the basic tone is very helpful. Every orchestra has different requirements for tone, which is something students need to know. Most horn students will eventually audition for orchestras. In the classroom, I teach my students how to adapt and integrate within an orchestral environment. As a starting point, the students have to be familiar with the orchestra's audition requirements, atmosphere, and culture.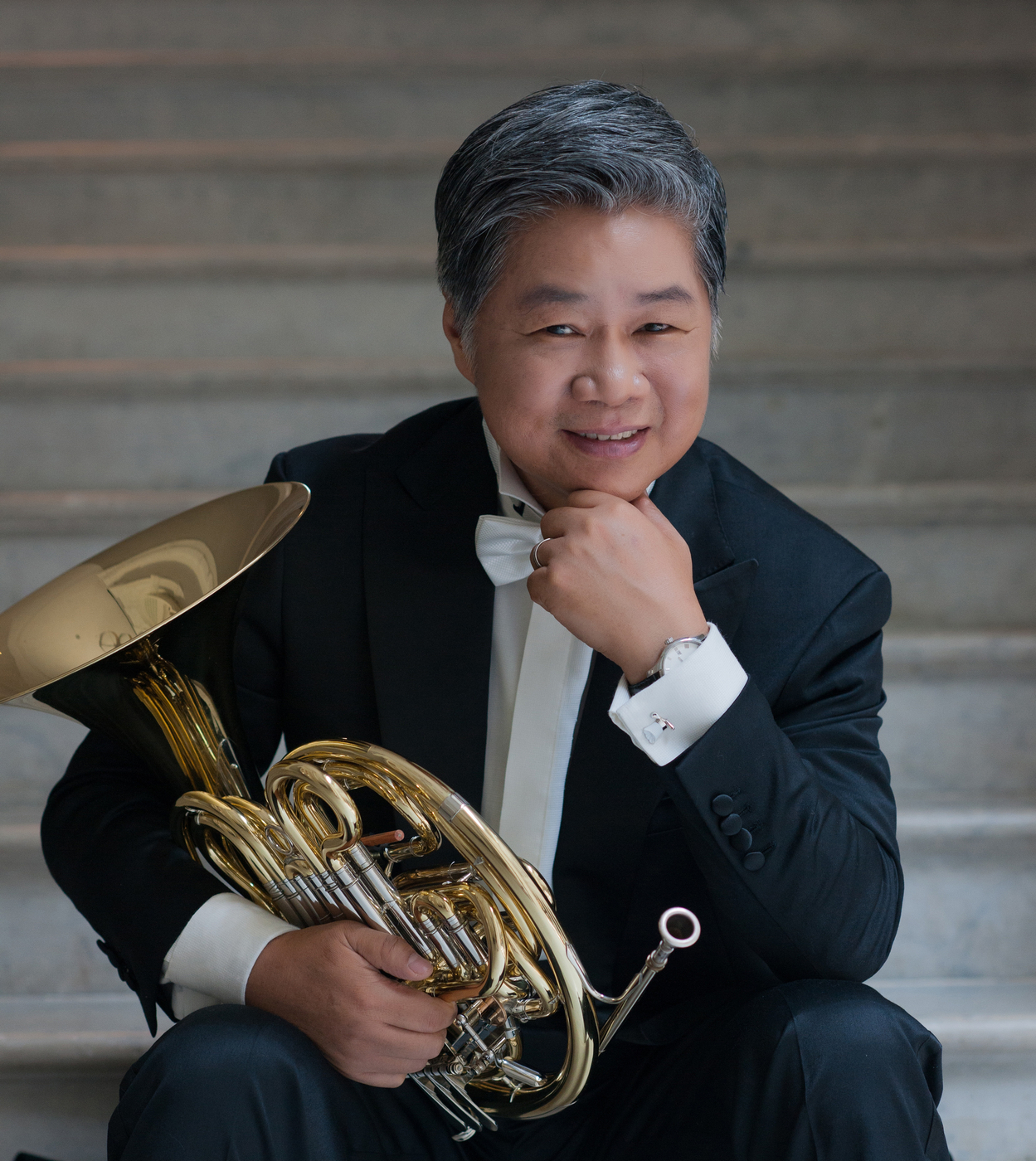 Chang Chou Han. Photo credit: Alan Lim