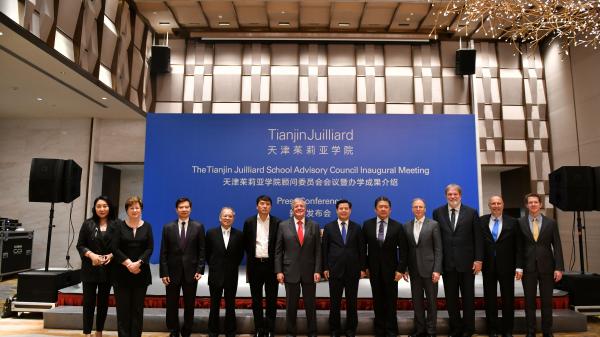 Graduate Studies Program Now Accepting Applications for Fall 2020
Inaugural Pre-College Class Began This Month
TIANJIN, CHINA – The Tianjin Juilliard School today announces the launch of the Tianjin Juilliard Advisory Council, composed of exceptional individuals who will advise on programs and initiatives to advance the school's mission in China, East Asia, and around the globe. The council will be chaired by the distinguished conductor, Long Yu: music director of Shanghai Symphony Orchestra and Guangzhou Symphony Orchestra, principal guest conductor of the Hong Kong Philharmonic Orchestra, artistic director and chief conductor of the China Philharmonic Orchestra, and vice president of the Chinese Musicians Association.
Additional arts and business leaders from in the U.S. and China joining the council include:
Deborah Borda, president and C.E.O., New York Philharmonic
Renée Fleming, soprano and arts advocate
Yoheved Kaplinsky, artistic director, Pre-College and chair, piano department, The Juilliard School
Bernard Lanskey, dean, Yong Siew Toh Conservatory of Music, National University of Singapore
Lang Lang, pianist, educator, and philanthropist
David Robertson, director, conducting studies and visiting distinguished faculty, The Juilliard School
Shenyang, bass-baritone
Tan Dun, composer, conductor, and dean, Bard College Conservatory of Music
Matías Tarnopolsky, president and C.E.O. of The Philadelphia Orchestra
Wang Cizhao, professor, former president, Central Conservatory of Music
Jonathan Woetzel,director, the McKinsey Global Institute and senior partner, McKinsey & Company
Nicole Yang, executive director, Palm Springs Holdings LTD
Shirley Young, president, US-China Cultural Institute, Cultural Associate of the Committee of 100 (USCCI)
Yu Qikeng, former deputy director of Cultural Department of Guangdong Province, artistic advisor, Guangzhou Symphony Orchestra
Ye Xiaogang, chair, Chinese Musicians Association, Composer
Zhang Yichen, chair and C.E.O., Citic Capital
Damian Woetzel, president of The Juilliard School, said: "We are so pleased to launch our new Advisory Council, whose members will provide us with key guidance as we open our new campus in Tianjin. We are inspired by the deep appreciation for classical music that is keenly felt across China and Asia, and we greatly anticipate the opening of the school, which will broaden access to our world-class performing arts education."
Joseph W. Polisi, chief China officer and president emeritus of The Juilliard School, remarked: "As The Tianjin Juilliard School brings Juilliard's distinguished training and teaching to students in China and across the globe, we are extremely appreciative of the vital support and guidance from this outstanding group of leaders. I am absolutely delighted that Long Yu has accepted the position of chair of the Tianjin Juilliard Advisory Council. As a visionary, Long Yu has tirelessly championed young artists for the future of classical music and contributes significantly in bringing Eastern and Western cultures closer together through his artistic work."
Alexander Brose, executive director and C.E.O. of The Tianjin Juilliard School, said: "Members of our Advisory Council bring the widest range of valuable perspectives and deep expertise in their respective fields. Together, as our ambassadors, they serve as an innovative force, and will be instrumental in advancing our school's success. This fall marks several exciting milestones for our new school, including the beginning of the first academic year with our inaugural Pre-College class in Tianjin, as well as our Graduate Studies program application opening."
Long Yu, chair of the Advisory Council, said: "I am delighted and honored to join my Advisory Council colleagues in this important work. Tianjin Juilliard represents the future in music, and I am excited by the educational opportunities this respected institution will bring to students through The Tianjin Juilliard School."
Mr. Xu Changjun, the Chancellor of The Tianjin Juilliard School said: "This fall marks a very important milestone for The Tianjin Juilliard School. Applications are now available for our three graduate programs, namely Orchestral Studies, Chamber Music, and Collaborative Piano. Qualified applicants will gain admission and, upon completion of their two years of study, will receive a master's degree awarded by The Juilliard School in New York, the first time this has ever been offered in China."
Tianjin Juilliard Graduate Studies program
The Tianjin Juilliard School offers U.S.-accredited Master of Music degrees in Orchestral Studies, Chamber Music, and Collaborative Piano. The school's Graduate Studies program is uniquely focused on collaborative musicianship and its launch will coincide with the official opening of the new building next year. Located in Tianjin, China, the new extension of Juilliard, with its state-of-the-art teaching and performance spaces, will offer a learning environment fostering artistic, intellectual, and personal growth. Residential housing will be available for students in the Graduate Studies program. Admission will be based on a competitive application and audition process. The application for the Tianjin Juilliard Graduate Studies program is now open and available at . Prospective students can review admission requirements on the website or contact admissions@tianjinjuilliard.edu.cn for additional information.
Tianjin Juilliard Pre-College program
This fall, The Tianjin Juilliard School welcomed the inaugural class of the Pre-College program on September 7. Its program is modeled after Juilliard's century-old Pre-College program in New York, with intensive Saturday classes and lessons. It offers a comprehensive, conservatory-style music program for students ages 8-18 who exhibit the talent and potential to pursue serious music study. Tianjin Juilliard Pre-College students work with dedicated, world-class faculty and will be given ample opportunities to perform in solo, chamber, and orchestral concerts. The application for next year's Pre-College class at The Tianjin Juilliard School will be open and available on October 15, 2019 at tianjinjuilliard.edu.cn.
About The Tianjin Juilliard School
The Tianjin Juilliard School brings Juilliard's artistic and educational mission to a wider global audience. The Tianjin Juilliard School will be the first performing arts institution in China to offer a U.S.-accredited Master of Music degree. This new campus will offer a graduate program for a Master of Music degree from Juilliard in orchestral studies, chamber music, or collaborative piano; a Pre-College program for students ages 8-18; an instrumental training program; adult education; and public performances.
Juilliard is developing the school in partnership with The Tianjin Conservatory of Music, the Tianjin Binhai New Area C.B.D. Administrative Commission, and the Tianjin Innovative Finance Investment Company (T.I.F.I.). The Tianjin Juilliard School will be a center for performance, practice, research, and interactive exhibitions, with communal spaces that are designed to welcome the public into the creative process and performance of music. 
The Tianjin Juilliard School is an educational institution authorized by the Ministry of Education of the People's Republic of China, the Tianjin Municipal Government and the Middle States Commission on Higher Education (USA).
About The Juilliard School
Founded in 1905, The Juilliard School is a world leader in performing arts education. Juilliard's mission is to provide the highest caliber of artistic education for gifted musicians, dancers, and actors from around the world so that they may achieve their fullest potential as artists, leaders, and global citizens.
Located at Lincoln Center in New York City, Juilliard offers undergraduate and graduate degrees in dance, drama (acting and playwriting), and music (classical, jazz, historical performance, and vocal arts). Currently more than 800 artists from 42 states and 45 countries are enrolled at Juilliard, where they appear in more than 700 annual performances in the school's five theaters; at Lincoln Center's Alice Tully and David Geffen halls and at Carnegie Hall; as well as other venues around New York City, the country, and the world. Beyond its New York campus, Juilliard is defining new directions in global performing arts education for a range of learners and enthusiasts through The Tianjin Juilliard School and K-12 educational curricula.
# # #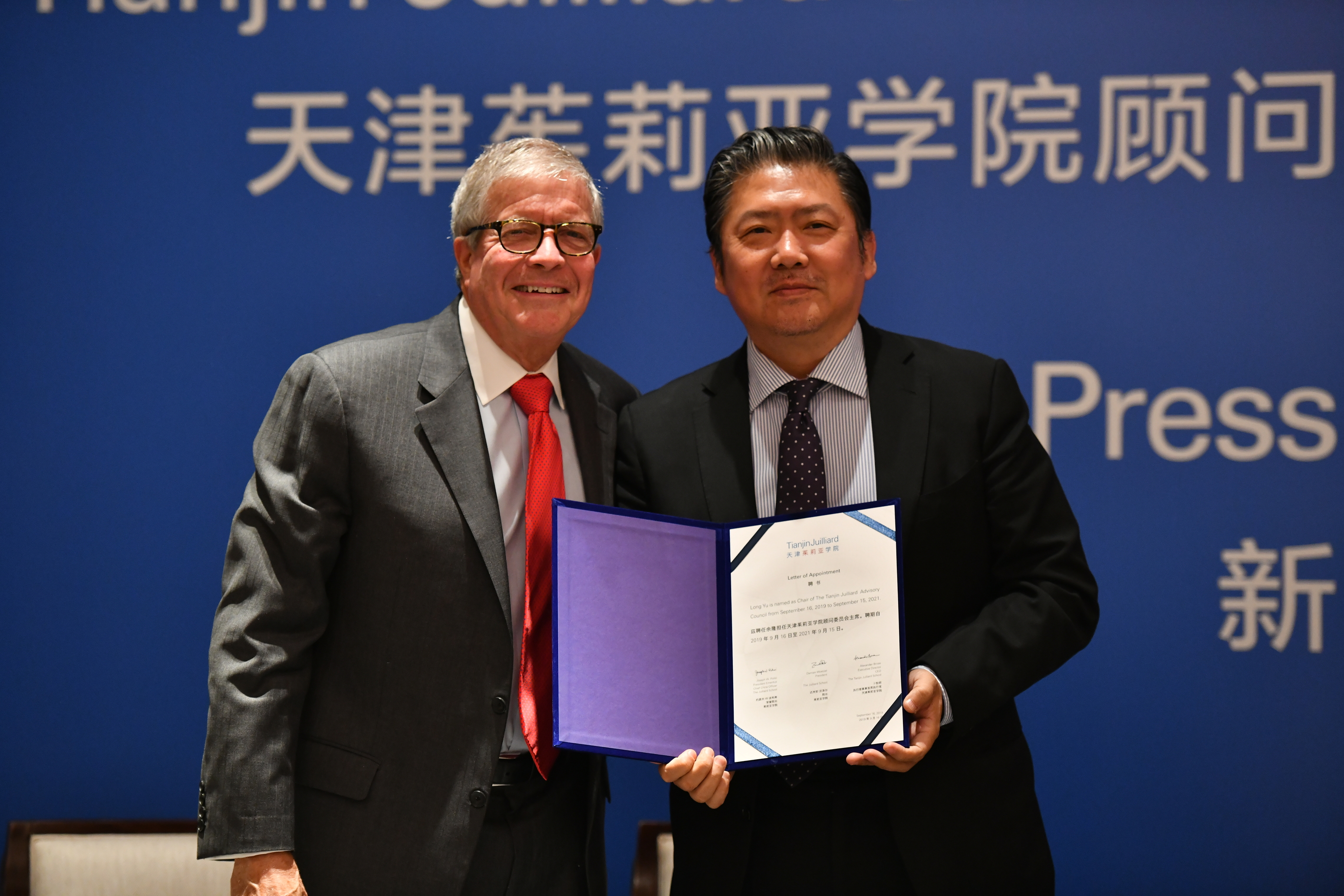 Dr. Joseph W. Polisi with conductor Yu Long at the Advisory Council Meeting. Photo credit: Duan Chao.