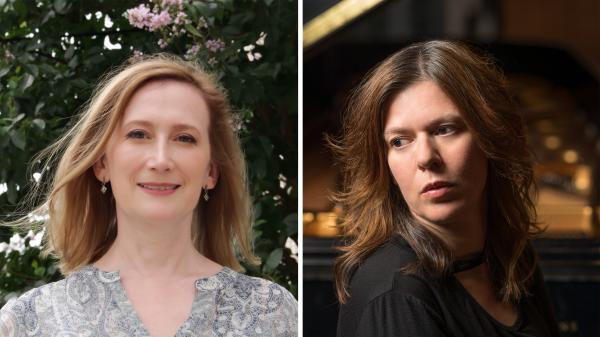 Audrey Axinn and Lydia Brown
Collaborative piano is an entire field of study where pianists are dedicated to the art of working collaboratively with other musicians. From working as a repititeur in opera productions to playing duos with instrumentalists, collaborative pianists can take on a myriad of roles teaching and performing. Audrey Axinn and Lydia Brown, both outstanding collaborative pianists and seasoned administrators at Juilliard's campuses in New York and Tianjin, got together to share how they first became interested in collaborative piano, what it takes to be successful in the field, and more. Lydia Brown is the chair of the collaborative piano department at Juilliard and Audrey Axinn is collaborative piano resident faculty and associate dean for academic affairs at Tianjin Juilliard.
Audrey Axinn (AA): I realized I loved playing with other instruments when I was a child playing in school concerts. During my undergraduate studies in solo piano, I spent the majority of my time playing lessons and recitals for string studios. I was excited to discover I could major in collaborative piano for graduate school and join a department in which all of the students and faculty shared the same love for playing collaboratively. Despite having a sizable instrumental repertoire by the time I entered the Master's program at Juilliard, I had less experience playing with singers. It was during the two years of studying at Juilliard with Margo Garrett, that I started to understand the fascination of blending music and poetry. Do you remember when you first became interested in collaborative piano?
Lydia Brown (LB): My personal interest in collaborative piano began in my freshman year at Eastman when I was asked to play Dichterliebe for a baritone's lessons. From that point, I took more collaborative recitals than I could play, so many that my solo piano teacher Nelita True demanded that I had a solo piano degree to concentrate on and in her words, "you might want to pursue this career later." Martin Isepp was a wonderful mentor of mine who gave me "permission" to play with other people as a career.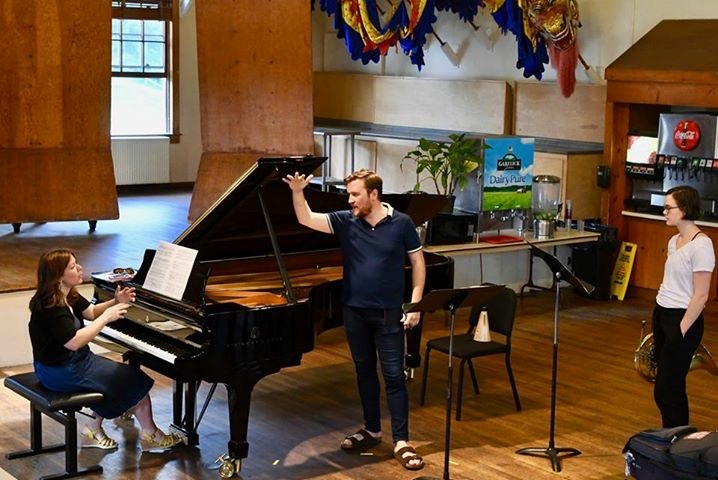 Lydia at the Marlboro Music Festival rehearsing with Miles Mykkanen, tenor and Nicolee Kuester, horn. Photo credit: Pete Checchia
LB: Over the past twenty years, there has been a real awakening regarding the role of the piano in the repertoire that we play as collaborative pianists. Do you also feel that there's been a change in how musicians perceive collaborative piano?
AA: Absolutely! Many pianists with huge solo careers have embraced duo repertoire. Pianists such as Emmanual Ax and Martha Argerich, regularly perform and record many important collaborative works for piano and strings. Audiences and presenters can perceive how piano parts in duo repertoire are every bit as important as the string parts—we certainly have more notes. My former teacher and mentor, Samuel Sanders, made significant contributions to elevating the role of the collaborative pianist. Sam performed and recorded with almost every important artist in the United States for decades. He spearheaded the movement to replace the word 'accompanist' with 'collaborative pianist' and was the first collaborative pianist to make contracts that ensured venues and agents would treat him professionally. Sam challenged the music business norms in respectfully demanding to be treated as an artist and we are benefiting from his initiative all these years later.
AA: I think the key to finding success as a collaborative pianist is both to be versatile and also to discover the part of the field that you feel the most passionate about and pursue that area with all of your heart. How has your training prepared you for success?
LB: I have three degrees in solo piano, my DMA was in Collaborative Piano, and my summer festival work usually involved instrumental and vocal chamber music. I turned toward opera while in the DMA program and through my involvement with the Lindemann Young Artist Program at the Metropolitan Opera, began serving as an assistant conductor there. This is my 15th year at the Met! I feel that my training was extremely diverse and encompasses literally every aspect of collaborative piano playing.
AA: Collaborative piano as a field is more fluid than it used to be. Often pianists with degrees in solo piano have focused their careers on playing collaboratively with instrumentalists, and pianists with degrees in collaborative piano are known to perform solo repertoire. What should a pianist consider when deciding on collaborative piano as a major and career?
LB: I feel that a pianist who is thinking about turning toward a career in collaborative piano needs to have some essential skills. First and foremost is the ability to sight-read, hopefully musically! It is a rarer skill than one imagines. A pianist working in this profession needs to be musically and personally flexible with outstanding listening skills and a genuine desire to create music with other people. The key rewards of being a collaborative pianist are the amount of music one learns, the friendships and partnerships that are formed over many years, and the honest feeling that you are helping others. As a young pianist, I was eager to wear many hats. I enjoyed all aspects of playing the instrument and I never felt restrictions in my ability to meet the demands of any musical setting.
AA: The Master's program for collaborative piano requirements are quite similar in New York and Tianjin for the first year of the program. Can you share more about the key features of the collaborative piano program in New York?
LB: One of the newest features of the collaborative piano program at Juilliard in New York is that pianists have to declare a vocal or instrumental focus upon entering. The curriculum is the same for all first-year students, but in the second year the coursework becomes slightly more focused toward the student's chosen area. We have the Sonatenabend and Liederabend series which form the backbone of the Collaborative Piano Department and showcase our students in both instrumental and vocal repertoire. On both the Juilliard and Tianjin Juilliard campuses, collaborative piano majors take introductory courses covering instrumental repertoire and vocal repertoire and vocal diction, as well as major lessons and any core classes such as music theory and keyboard studies that incoming students are not exempt from on the basis of placement tests taken during orientation week.
LB: How did Juilliard's Collaborative Piano program in New York help shape the new Collaborative Piano program at the China campus?
AA: Collaborative piano ability is an additional layer of musical skill revolving around a type of listening to musical partners in a way that is so open and empathetic it is as if we feel their musical line in our own bodies. In China, where there is less of a tradition of collaborative piano study, it's important that all collaborative piano majors are trained to work both with singers and instrumentalists. There are 'cultural' differences between instrumental studios and voice studios and the nature of repertoire between the two areas can be quite different.
The New York curriculum and the Tianjin curriculum diverge a bit in the second year. In Tianjin, where there is a pressing need to train vocal coaches, all students take additional courses in opera repertoire and song literature. The Tianjin curriculum also has flexibility offering students the opportunity to choose whether to take instrumental chamber music or an additional diction class. Collaborative piano as a field is developing quickly in China and we feel it is important for collaborative majors here to be able to avail themselves of any and all opportunities once they graduate. As an example, a significant part of my professional life has been spent coaching singers and I might not have been able to avail myself of such opportunities if I hadn't been required to take vocal collaborative classes when I was a Master's student at Juilliard.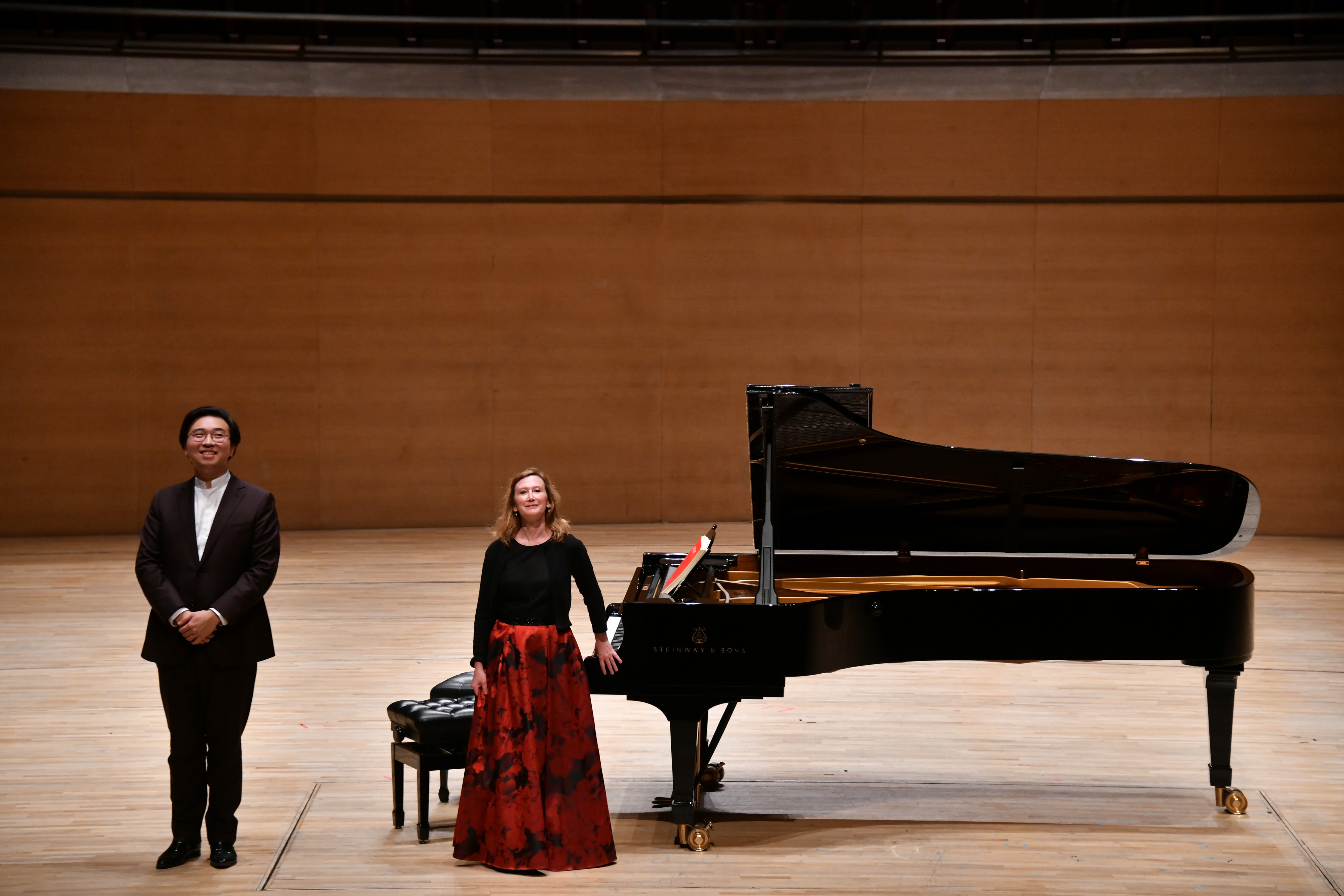 Audrey Axinn with pianist and Tianjin Juilliard resident faculty, Alvin Zhu, performing at The Tianjin Grand Theatre in China. Photo credit: Duan Chao
LB: How do the courses at Tianjin Juilliard's Collaborative Piano program support the student's professional growth and development?
AA: Students will have many opportunities to perform all genres of instrumental and vocal repertoire. Courses are designed to create expertise in all facets of instrumental collaborative playing as well as vocal diction, vocal coaching, the art of playing orchestral reductions, and to give students hands-on experience preparing operatic repertoire. We are committed to training our students to work in opera houses should that match their professional goals. We are building partnerships with professional opera houses to give students a taste of working in that environment.
The Tianjin Juilliard curriculum also includes Introduction to Entrepreneurship and a course in Community Engagement during the first year. Both of these subjects are cornerstones of New York Juilliard's education. Community Engagement offers students the opportunity to have meaningful experiences bringing musical performance to audiences who might not otherwise have the opportunity to experience classical music concerts. The Introduction to Entrepreneurship course prepares students to be pro-active participants in shaping their own careers. There is such passion for classical music in China and an extensive network of performance venues in every city. China is fertile ground for musicians to carve out opportunities for themselves if they are trained how to do it.
Photo credit at the top from left to right: Sunny Liu, Steve Riskind