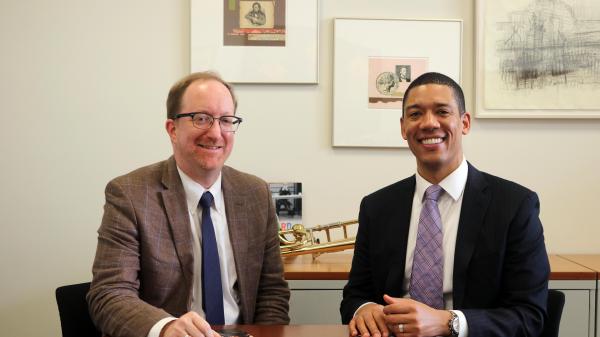 Robert Ross and Weston Sprott 
Robert Ross and Weston Sprott first met in the spring of 2016, right before Sprott started teaching in the Pre-College division where Ross was Assistant Dean at the time. Since then, a lot has happened last year; Ross moved to Tianjin, China to develop Juilliard's new Pre-College at The Tianjin Juilliard School and Sprott was named Dean of the Preparatory Division in New York. In this conversation, the two deans reflect on Pre-College highlights during the year, share advice for students, and discuss their hopes and ideas for exchange between the two Pre-College divisions at both campuses.
Weston Sprott (WS): You spent nearly 20 years working for Juilliard in New York, most of those with the Pre-College, and now you are developing Pre-College at the Tianjin campus. What has been the experience of launching the inaugural Pre-College class for Juilliard's new campus?
Robert Ross (RR): The love I have for Juilliard runs deep in my veins, and being chosen for this role has been one of the greatest professional honors of my career. As I approach my one-year anniversary in China, I admit my experience cannot be easily summarized…a memoir; may be more appropriate! But if I were to choose a single word, it would have to be 'exhilarating.' It is a similar feeling to becoming a parent for the first time and watching your baby grow up and reach all the key milestones of first words, first steps, first…everything!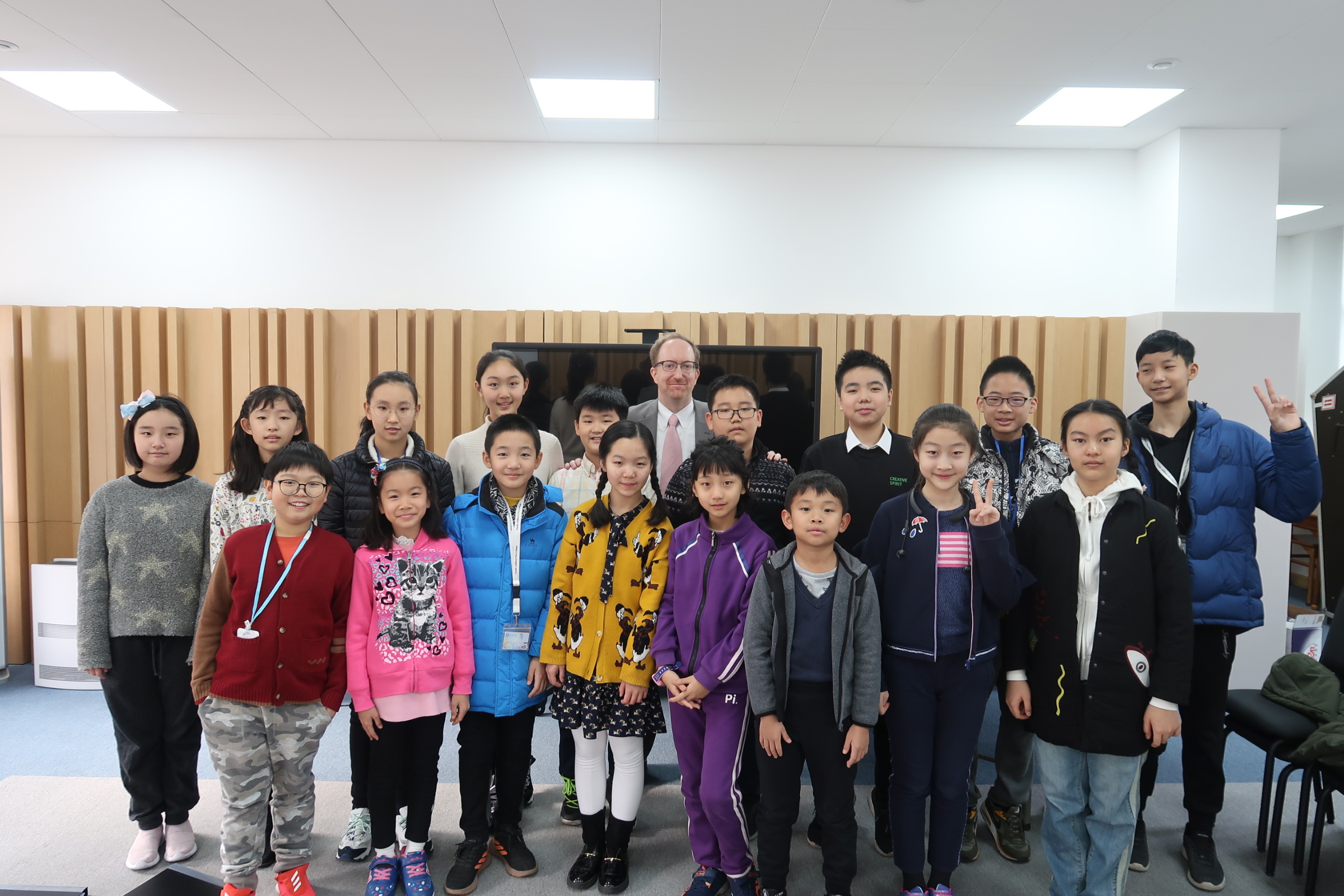 Robert Ross with Tianjin Juilliard Pre-College students in Tianjin, China. Photo credit: Sophie Zhang
WS: What has been the most memorable moment in The Tianjin Juilliard School's relatively short history?
RR: I could dedicate an entire chapter of my memoir to memorable moments! I had the privilege of welcoming the inaugural Pre-College class in June soon after they were admitted. This was the first such gathering of our students and parents. What a huge milestone for our school and I was honored to be the person delivering the welcome message. In Tianjin, everything we do is a first, and there is a great sense of pride and joy that accompanies these moments.
RR: It is also the first year in your new role at Juilliard, and you've been front and center for exciting milestones for Pre-College in New York as well. What were some of the highlights in 2019?
WS: It was wonderful being part of the Pre-College celebration at our recent Juilliard Fall Benefit! Composer Nicholas Britell, flutist and singer Nathalie Joachim, and pianist Joyce Yang, all spoke of how influential Pre-College was for them. During the first semester, students in the Pre-College Orchestra and the Music Advancement Program (MAP) Orchestra had the opportunity to work with world-renowned conductors Yannick Nézet-Séguin, Sir Simon Rattle, and David Robertson. Our students truly rose to the occasion; they were intensely focused and played their hearts out. The maestros all had an amazing time too. The world's leading professionals working to develop the next generation of musicians is awesome and it's what Juilliard is all about.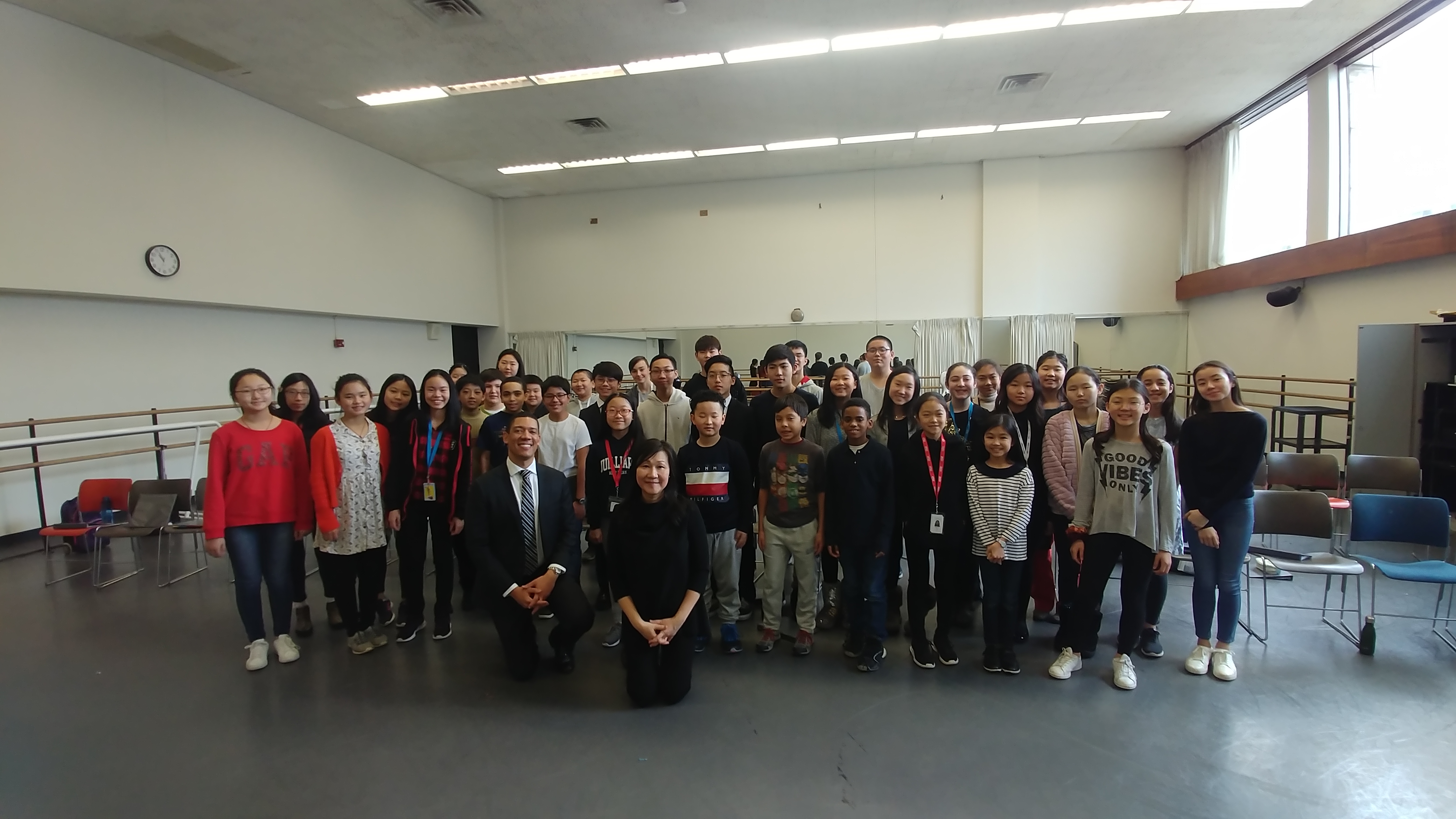 Weston Sprott with Juilliard Pre-College students in New York. Photo credit: Esther Harris
WS: Juilliard's Pre-College has been around for over a century. However in China, our Pre-College is considered to be a new model of music education in China for young talented musicians who are serious about the pursuit of music. Can you share ways in which Tianjin Juilliard's Pre-College is new in China?
RR: The most obvious difference is that the Tianjin Juilliard Pre-College runs only on Saturdays compared to the traditional Chinese model of a Monday to Friday experience that covers both music and academic courses. Our model allows for students to choose a weekday academic school that fits their specific learning objectives. As we know from Pre-College in New York, a large percentage of students are also pursuing academics at the highest levels which leads many of them to the nation's top liberal arts colleges and universities. We expect Tianjin Juilliard Pre-College to attract this same type of student who wants to pursue a well-rounded education. Other similarities to New York include the curriculum and general structure of the schedule, which is modeled after the New York program. Our visiting faculty have commented that the "Saturday vibe" in Tianjin feels remarkably similar to that in New York, and this can be attributed to the exuberance of the students. They bring boundless energy and an insatiable appetite for music.
WS: We have spoken about how important it is for our Pre-College divisions on both campuses to stay connected. Are visiting faculty one way to achieve this?
RR: Absolutely. We have been fortunate to have had visits by several Juilliard faculty in our first semester, including Pre-College artistic director and pianist Yoheved Kaplinsky, cellist Natasha Brofsky, and the Juilliard String Quartet. We are really looking forward to your visit in February, our brass students are thrilled at the opportunity to work with you. The teacher-student exchange is exciting and important, and the connections between New York and Tianjin faculty are equally vital. A week after your visit to Tianjin, several Tianjin Juilliard faculty will travel to New York to perform with New York faculty as well as visit Pre-College and MAP on Saturday. I'm thrilled to see these exchanges occur in both directions!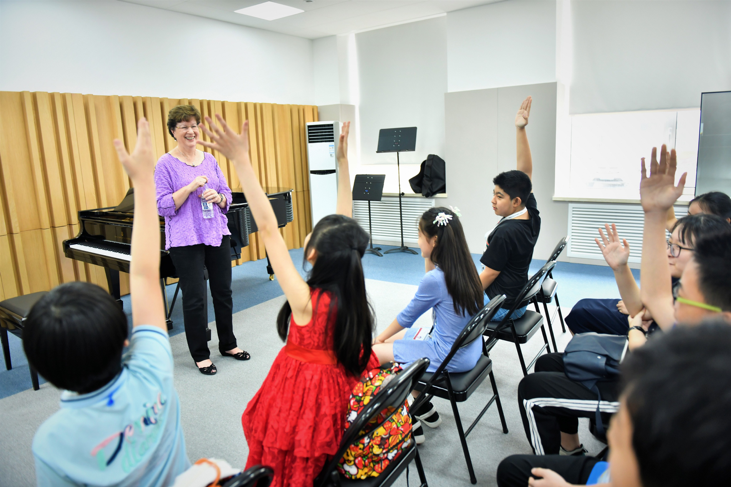 Juilliard's Pre-College artistic director and pianist Yoheved Kaplinsky with the Tianjin Juilliard
Pre-College students in China. Photo credit: Duan Chao
RR: The Tianjin Juilliard campus has a particular focus on collaborative music making. For example, chamber music has not been a focal point of Chinese music education and it has been very rewarding to watch our students at Tianjin Juilliard experience chamber music, many of them for the first time. For students who have not experienced chamber music playing before coming to Juilliard, what do you hope they will learn from collaborative music  making?
WS: As a discipline, chamber music teaches group concepts of phrasing, rhythm, balance, and intonation. As an art form, it teaches students how to say what they need to say while being considerate of the need for others to do the same. Although your part is uniquely important and you have multiple leadership opportunities, you are a member of a group. It's that age-old question - How can I be me without stopping you from being you?
RR: These are excellent points. Students get to learn from their peers and that is an invaluable experience. Another key learning opportunity is through mentorship, which can add so much value to one's education. You have worked with young musicians all over the world. From your perspective, why is it so important for young musicians to receive mentorship or support?
WS: The value of mentorship cannot be overstated. Young musicians need to develop their musical skills, but they also need to have their humanity recognized by people they respect. There's no substitute for the opportunity to speak candidly with someone who has already traveled the roads you are going down. My life and career are much richer because my mentors helped me answer some of life's big questions. That's one of the beauties of a place like Juilliard. Young people get the opportunity to study with their musical heroes, and this relationship stretches beyond the development of technique and musicianship.
RR: That's a very essential part of our Pre-College program. Our Tianjin Juilliard students develop their own musical voices through study and coaching with faculty from both Juilliard campuses. As a Metropolitan Opera Orchestra trombonist, how do you mentor young musicians who are interested in entering the orchestral world?
WS: When mentoring young musicians, the most important thing to communicate is that the relationship is purely about the growth of the student. When someone knows you are acting solely with their best interest in mind, the space for honest feedback and receptiveness to constructive criticism expands. Having this space is vital because the skills needed to become a professional musician are numerous and difficult to attain. I try to give students a clear picture of their desired pathway - where they are on it, where they want to be, and how to progress from one place to the next. From a musical standpoint, there is a focus on balance - balancing fundamentals with music and rote automation with fun. Psychologically, the aim is to prepare students for the regular pressures associated with the pursuit of a career - auditions, competitions, navigating professional relationships, and group dynamics.
WS: The path to professionalism definitely begins at an early age! What tips can you provide to Tianjin Juilliard students on getting the most out of their Pre-College experience in China?
RR: Students will thrive in this environment if they have an open mind about what we are teaching and the way it is being taught. Our faculty members are truly international, having lived, studied, and taught in some of the top music schools around the world. They are bringing their vast experience to our students, and their thoughts, ideas, and methods are new and different than what's being taught elsewhere in China. For many of our students, this is the first time they are learning music in a bilingual environment (many of our faculty speak both English and Chinese), we are providing the necessary resources to support them, such as our English for Musical Purposes course.
My other recommendation is for them to connect with their Pre-College peers, both musically and socially. We are building an amazing community, and similar to New York, we are finding that our students love Saturdays because they are surrounded by other kids who share the same drive, focus, and passion for music as they do. I cannot wait to introduce you to our Pre-College students in Tianjin next year!