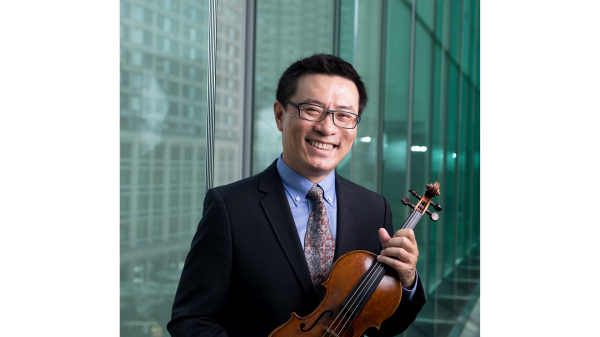 In anticipation of the inaugural graduate studies class starting a new school year, our Artistic Director and Dean, Wei He shares his hopes and dreams for incoming students as they mark a new chapter in their lives. Apart from China, our Tianjin Juilliard graduate students come from South Korea, United States, Singapore, Thailand, Hungary, Uzbekistan, Canada, and Colombia. The Tianjin Juilliard community of staff, faculty, and students welcomes the new graduate students this fall. An adventure awaits!
Tell us more about the inaugural Graduate Studies class! What's special about this incoming class?
The inaugural graduate class is unique and special in so many ways! Just like our Tianjin Juilliard faculty and staff, our students possess a pioneering spirit. These students look for adventure and they are self-assured and confident enough to embrace the unknown. The fact that they are excited about joining our inaugural class tells me that they are exactly the kind of students Tianjin Juilliard is looking for: artistically talented, entrepreneurial, forward thinking, and willing to take risks.
From the beginning, we knew Tianjin Juilliard was going to attract top talents not just from within China, but also Chinese students who had studied abroad, as well as international students from all over the world. We are happy to welcome graduate students from 9 different countries! Our international student body and faculty bring with them cultural diversity, rich educational experiences, and a wide range of perspectives. This helps to create the most ideal learning environment.
What are your hopes and dreams for our incoming students as they mark a new chapter in their lives?
We cannot wait to experience this journey of writing the first chapter of Tianjin Juilliard's Graduate Studies with our students. We certainly hope our students will seize this amazing opportunity of a lifetime to fully utilize every moment of it, with many privileges that come with being the first graduate class. Steeped in Juilliard's tradition of excellence, the School brings together a global community of performers and pedagogues. We believe that their education at Tianjin Juilliard will help them to develop into global minded artist citizens. It will lead to many unthinkable opportunities and have significant impact on their lives.
What are some highlights in the new school year that students can look forward to?
There are wonderful privileges for the inaugural class: students have full access to a brand new state-of-the-art facility including all its performance venues. There will be ample practice rooms! Our students have unparalleled support from faculty and administration in both educational and professional development; and abundant performance opportunities on campus and at major performance venues in Tianjin and Beijing. We have planned an exciting season with great chamber and orchestral music. Students will have many opportunities to play side by side with our acclaimed international resident faculty.
How will students thrive in their first school year, given the unusual circumstances as a result of the pandemic?
The students have demonstrated unusual commitment throughout the whole process despite some enormous challenges caused by global pandemic. Lock downs from cities and countries, travel restrictions, and great uncertainty about the near future, were all factors that made our first graduate admission cycle extremely challenging in every possible way. Thanks to the great effort from our incredible teams from both New York and Tianjin as well as our committed partners, we have pushed and plowed forward with incredible determination. It's unthinkable how far we have come, that our faculty and students from all over the world will be together soon. This fall, our students will embark on a rewarding educational journey and enjoy a great start to the school year within a safe and healthy environment.
Any advice to share with our students?
It's going to be a very different experience than what you have had before. Tianjin Juilliard offers an authentic Juilliard experience in China, one of the most exciting countries both historically and culturally. Curiosity will enable you to fully experience this unique journey. I encourage you to make many new friends, collaborate with people from all over the world, and explore different regions of China and Southeast Asia through abundant music opportunities. International students, do try learning Mandarin!
Any recommendations on your favorite restaurants in Tianjin as many students are living in this city for the first time in their lives?
My personal favorite Chinese restaurants in Tianjin is Dao Wei, which offers inspiring Chinese cuisine with a modern twist. We have taken many visiting artists there include Wynton Marsalis and his band. My favorite non-Chinese restaurant is Gang Gang, they offer a creative menu with Japanese, French and Italian influence. And their burger is the best in Tianjin. Being a major Chinese city with such a long history of international influence, Tianjin offers amazing variety when it comes to cuisine. Do try famous local delicacies such as the famous bronze hot pot! The capital city, Beijing, within an hour of taking a high-speed train ride from the campus offers world-class dining options.