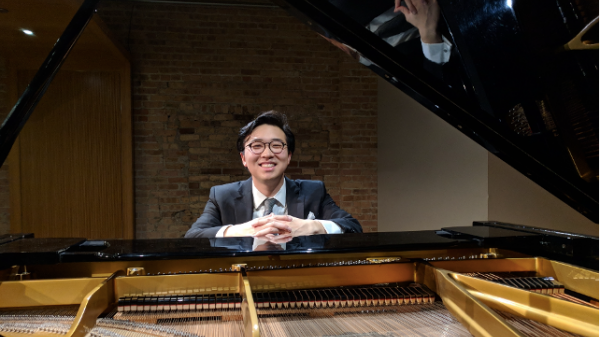 Piano faculty Alvin Zhu felt extremely fortunate to grow up surrounded by music. Both his parents played in the West Virginia Symphony in the U.S., his father a violist and his mother, a cellist. Some of his earliest memories were of running around concert halls where the symphony toured, while they were rehearsing. Zhu's early piano training began at age four with his grandmother and mother, while his violin training began the year after with his father. His grandmother was a pedagogy lecturer at the Central Conservatory, specializing in early piano training. Zhu juggled both instruments until the age of 18, when he went to Juilliard for his undergraduate studies in piano.

One of his biggest influences later on was his grandfather and renowned pianist Zhu Gong Yi. (朱工一先生). As a Fulbright scholar, Zhu pursued research on his grandfather's pianistic influence in China. Zhu Gong Yi, was one of China's first pioneers in piano education and piano performance. He was the former chair of the piano department at the Central Conservatory of Music in Beijing from 1982-1986, and a professor at the conservatory since its founding in 1949. His grandfather's piano teacher was Mario Paci, a famous Italian conductor and pianist whose teaching legacy can be traced back to Beethoven. His grandfather was also a conductor and composer in charge of several performing arts troupes. His multifaceted musical career brought to light a new attention to sound, imagination, and piano technique. While completing his doctoral studies at Juilliard, Zhu found great inspiration through the research of his grandfather. He shared more on his passion for piano, his musical journey, and life in Tianjin.

How did you discover your passion for the piano?
I discovered my real passion for music relatively late, when I was around 17 years old. Up until then, I thought of piano and violin as hobbies. The most important thing I learned as a very young pianist was never giving up. While my grandmother and mother may have been my first critics, my father was always my first fan! He always stressed the importance of encouragement and positivity in learning. Not only were my parents providing musical inspiration, but they also supported me every step of the way. To a child, nothing is more important than support. For that, I am eternally grateful.
When did you start taking music seriously as a profession?
My parents never pushed me to become a musician and I always thought of being some sort of scientist, engineer, or maybe even a doctor because I excelled in calculus, biology, chemistry, and physics. But everything changed in 2007 when I was selected as a Jack Kent Cooke Young Artist for National Public Radio's (NPR) "From the Top" radio show, hosted by celebrated pianist Christopher O'Riley. Not only did I get to perform live on the show, which broadcast throughout the U.S., I was also awarded a $10,000 scholarship to further my musical career. I used some of the scholarship to apply for the Aspen Music Festival, and attended the festival the summer before my senior year of high school. The festival was where I first met Veda Kaplinsky, chair of piano at Juilliard, who recommended that I audition for Juilliard in my senior year. After working with her for 4 weeks at Aspen, I made up mind to audition in March of 2009. That summer was a turning point in my life because it was the first time that I wanted to be a musician and not anything else. At Juilliard, I went on to study with Veda for a total of 11 years.

You taught music history and music theory at Juilliard, and now you are teaching music history at Tianjin Juilliard. What's your approach to teaching?
My teaching approach centers around building a student's explorative capabilities. To be able to arrive at conclusions about musical or extramusical questions requires several layers of cognition and problem-solving. My role is to facilitate, guide, and bolster the student's inner curiosity, so that when faced with certain adversities, they approach with an open, inquisitive, and confident mind. I truly believe a good teacher will always change your life for the better. You may not want to be changed, nor be able to feel any change, but little by little, you will experience the world differently. My two wonderful teachers, Veda and Julian, were life-changing mentors.

What do you cover in your class on music history? 
Everything you do away from the instrument is just as important as everything you do in front of it. Music history shows us how music and taste has changed over time. We learn about traditions and definitions of things, styles, and performance practice – absolutely necessary to bringing an authentic experience to the listener. How can you play a polonaise well if you have no idea who dances it and where it is danced? How can you interpret the music of Shostakovich or Prokofiev if you don't know what life in Stalinist Russia was like? The more you know about something, the better prepared you will be when making decisions. All music that we play is based on decision-making. Both semesters of graduate music history will feature "deep dives" into specific composers and their works, prioritizing depth rather than breadth. While the aim is to look under a microscope, the nature of this course -- centered around large group discussions, student presentations, score analysis, and live performances -- will also shed light on the music and other facets of the times. 
During this pandemic, how did you stay motivated and inspired musically?
Technology, being one of the most fascinating areas of development, is an exciting opportunity to connect with audiences across the world. Although the online experience rarely outweighs live events, the web may still be able to capture the beauty and thrill of the arts. I have been lucky to have participated in online masterclasses, lectures, and recitals through the generous presentation by patrons, festivals, and other organizations. A couple of highlights included a livestream lecture on "Performing Mussorgsky's Pictures at an Exhibition" and a livestream solo recital for the 2020 Paris Vivace International Piano Competition; livestream interview and master class for Piano League; and a livestream solo recital for 2020 Chautauqua Piano Festival, among many others.
Do you program contemporary Chinese works?
I enjoy programming contemporary Chinese works in my concerts. Much of the music that I have encountered is vividly colorful, often with extreme contrasts in nuances, textures, rhythms, and sonorities. They are widely effective in concerts and I plan to program more. One recent lecture recital that I organized at Juilliard, focused on Chinese contemporary works from the 1980's to the 2000's, including works by Tan Dun, Wang Lisan, Xu Zhenmin, and Peng Zhimin. In the past, I have also programmed works by Xiaogang Ye. Although my grandfather is not a contemporary composer, I always save one of his early piano pieces, 小溪, as an encore for my recitals.
How is life in Tianjin?
Life in Tianjin is full of adventure! The food is delicious, the history and architecture are multifaceted and diverse, and the quality of living is high due to the convenience of seamless apps and new technology. In China, Western classical music is a respectable, time-honored tradition, as well as a sought-after career. Since music and the arts are held in high esteem here, concerts and events are not only well attended, but often sold out. And while I do enjoy traveling across China, what I love more than that, is being able to share and make music wherever I go!