The 2nd Annual Tianjin Chamber Music Festival Returns to the Tianjin Grand Theatre from November 8 to 18
Last November, The Tianjin Juilliard School and Tianjin Grand Theatre jointly staged the first Tianjin Chamber Music Festival and it has become an annual fixture in the local arts scene. The inaugural festival was conceived with the goal of bringing chamber music to the forefront of classical music, and fostering international exchange and education through the participation of music students from China and many other countries. The weeklong festival was an instant success, bringing in thousands of concertgoers who came to the Tianjin Grand Theatre to watch the Tianjin Juilliard Ensemble, the Juilliard String Quartet, and many outstanding young musicians share this rich tradition of chamber music making at its finest.

This year's Tianjin Chamber Music Festival will be a highly memorable one. In a year of uncertainty and highly unusual times, chamber music will reign and come to life through concerts taking place from November 8 –18. Over the course of 11 days, Tianjin Juilliard students, resident faculty and guest artists will dive deep into the extraordinary works of Mozart, Mendelssohn, Ravel, Beethoven, Brahms, as well as contemporary works by Gerald Cohen, Joan Tower, and Raymond Eugene Premru.
The Tianjin Juilliard School's flagship ensemble, Tianjin Juilliard Ensemble, will once again come together to take the helm for this exciting season. Renowned guest artists include bass-baritone Shenyang and guzheng player Chang Jing. For the Tianjin Juilliard students participating in the festival, it is an incredible experience as they immerse themselves in intense work with dedication. Intensive coaching from faculty and guest artists help them grow musically as they prepare for these performances over a short period of time.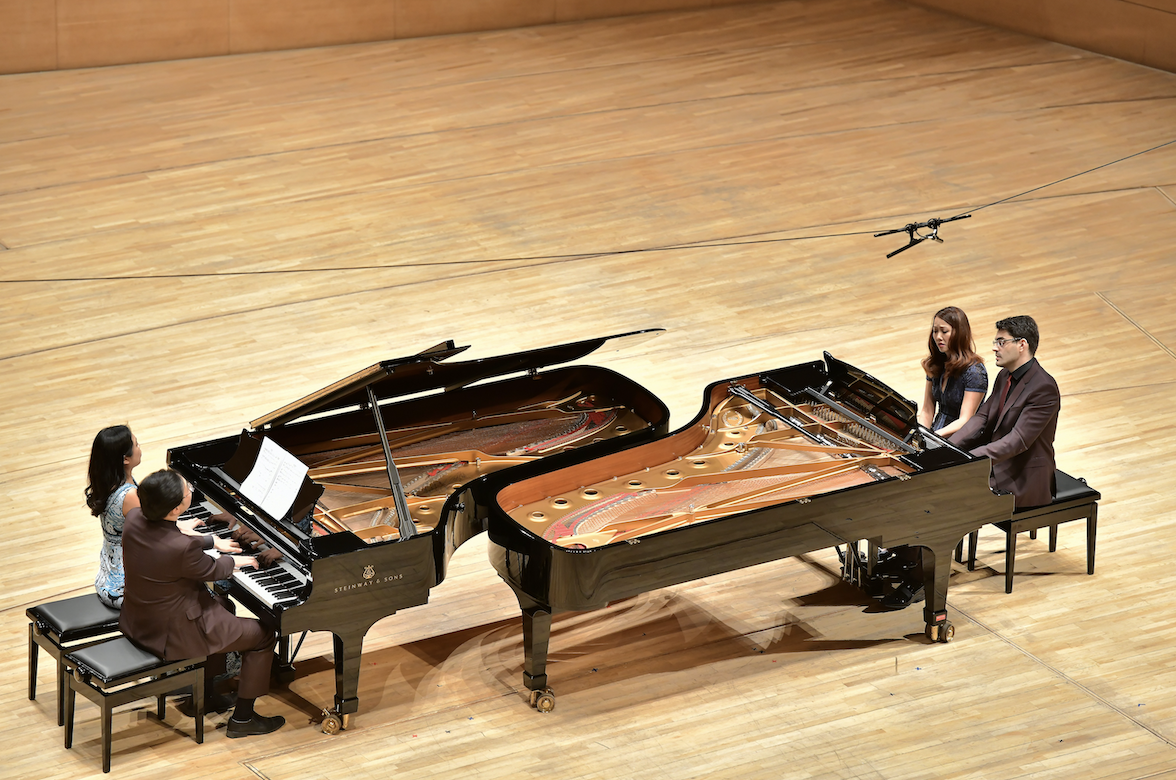 Festival Highlights

Audiences at the opening concert will be treated to Brahms's Academic Festival Overture, Op. 80 for 2 Pianos 8 Hands. Brahms composed this stand-alone overture for orchestra in 1880 to commemorate his being awarded an honorary doctorate by the University of Breslau.

Raymond Eugene Premru was an American trombonist and composer who wrote extensively for brass.  The concert will feature Premru's Concertino for Trombone and Woodwinds (1954), a miniature concerto for the trombone, accompanied by a quartet of woodwinds. The harmonic language is freely chromatic, somewhat reminiscent of Hindemith.

The November 12 concert will celebrate Beethoven's music extensively, focusing on lesser known arrangements of folk songs from Europe and the British Isles. Bass-baritone Shenyang will perform seven Scottish songs selected from Beethoven's 25 Scottish Songs Op. 108. Samplings from these compositions provide an invaluable opportunity to see a more complete and somewhat humorous picture of the composer's work. Arguably the best known work on the program, Beethoven's Piano Trio No. 4 in B-flat Major, Op. 11, an early trio from 1797 originally for clarinet, cello, and piano, will be performed in a version with violin playing the clarinet part. The last movement of the trio is a set of variations on the comic aria "Pria ch'io l'impegno," which was widely popular in Beethoven's Vienna.

The third concert on November 15 featuring students performing alongside the faculty will include Mozart's Oboe Quartet in F major, K. 370, Mendelssohn's Octet in E-flat Major, Op. 20 as well as contemporary works by Gerald Cohen and Joan Tower.

Gerald Cohen is a Jewish-American composer. The work to be performed, Preludes and Debka for Trombone and String Quartet (2001), for trombone and string quartet, was composed in 2001 for Haim Avitsur and the Degas String Quartet. According to Cohen, a "debka" is a Middle Eastern dance, used in both Arab and Israeli communities – the dance and its music is, as in the last section of this piece, normally in the form of a theme and variations. While composing, Cohen found this melody in an anthology of Sephardic music and it jumped out as being a wonderful theme for the trombone and strings to play with.

Joan Tower is one of the most distinguished contemporary American composers. The title of Petroushskates (1980) is a playful portmanteau of "skates" and the title of Stravinsky's second ballet, Petroushka and it takes musical cues from both sources. The piece's opening gesture is derived from the gentle and pulsating beginning of Stravinsky's ballet, and pursues a "seamless" musical course meant to evoke "the smooth flow of figure skating." Like many of Tower's works, this piece highlights purposeful navigation of different harmonic, textural, and rhythmic fields.

Tickets are available through the Tianjin Grand Theatre's box office.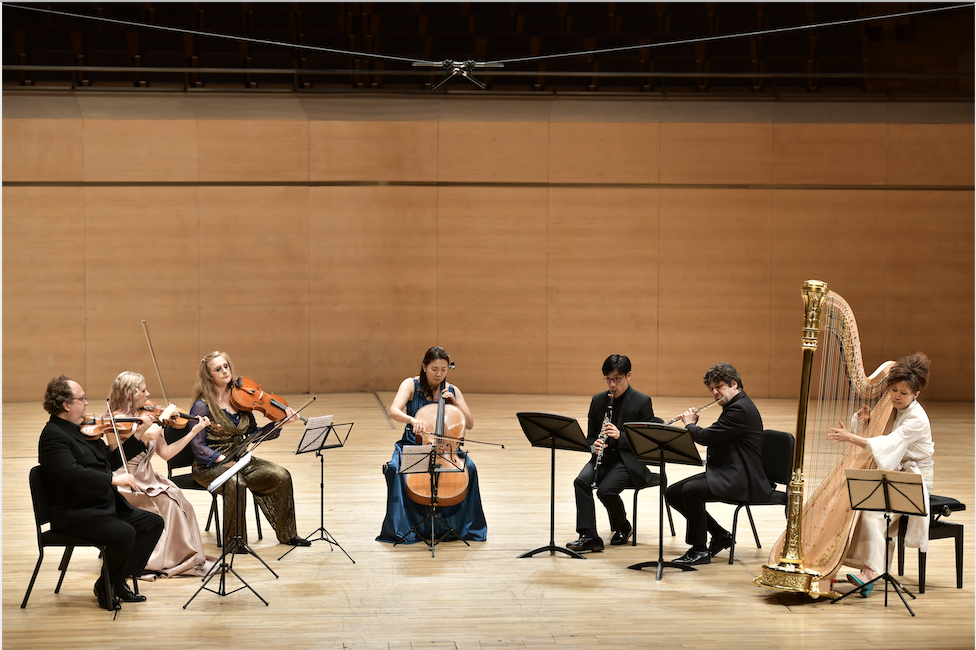 Calendar of Events: Tianjin Chamber Music Festival 2020

The 2nd Annual Tianjin Chamber Music Festival's Opening Concert
Sunday, November 8, 2020, 7:30pm
Concert Hall, Tianjin Grand Theatre
Program:
BRAHMS
Academic Festival Overture, Op. 80 for 2 Pianos 8 Hands (arr. Keller)

Raymond Eugene PREMRU
Concertino for Trombone and Woodwinds (1954)
RAVEL
Introduction and Allegro for Harp, Flute, Clarinet and String Quartet in G-flat Major
BEETHOVEN
Septet in E-flat Major, Op. 20
Shenyang and the Tianjin Julliard Ensemble Concert
Thursday, November 12, 2020, 7:30pm
Concert Hall, Tianjin Grand Theatre
Program:
Beethoven
6 National Airs with Variations, Op. 105
10 National Airs with Variations, Op. 107
Piano Trio No. 4 in B-flat Major, Op. 11
10 Variations on "Ich bin der Schneider Kakadu", Op. 121a
25 Scottish Songs, Op. 108
The Tianjin Julliard School Faculty & Students Concert
Sunday, November 15, 2020, 7:30pm
Concert Hall, Tianjin Grand Theatre

Program:
MOZART
Oboe Quartet in F major, K. 370
Gerald COHEN
Preludes and Debka for Trombone and String Quartet (2001)
Joan TOWER
Petroushskates (1980)
MENDELSSOHN
Octet in E-flat Major, Op. 20
Closing Concert of the Tianjin Chamber Music Festival 2020
Concert of Chang Jing and Friends
Wednesday, November 18, 2020, 7:30pm
Concert Hall, Tianjin Grand Theatre