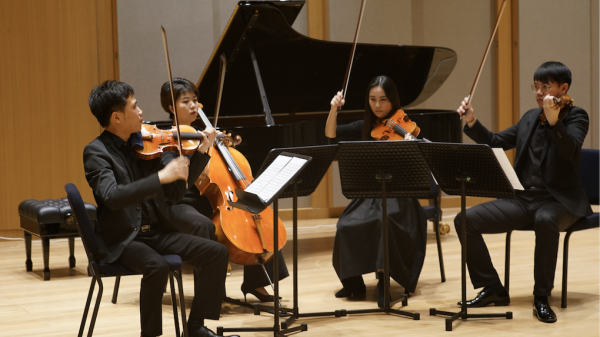 The MILA Quartet
This fall, the School was excited to welcome the first Fellowship String Quartet, the MILA Quartet. Members of the MILA Quartet are Ke Karl Zhu, Huan Ci, Zhangjuan Liu, and Xinyang Lv. They are currently pursuing the U.S.-accredited, two-year Master of Music degree in chamber music at Tianjin Juilliard.
Xinyang Lv of the MILA Quartet expressed great excitement. "We are delighted to be part of the Tianjin Juilliard family. It is an honor to be the first fellowship string quartet and we look forward to developing our artistry at the school," she said.
The MILA Quartet was formed at the beginning of the year. These four talented and enthusiastic young musicians are coached by violin faculty Guillaume Sutre and members of the Shanghai Quartet at the School. The quartet shone at the joint faculty and student chamber music concert during the Tianjin Chamber Music Festival in November. They performed Mendelssohn's Octet in E-flat Major, Op. 20, showcasing their extraordinary vitality alongside their mentors. Most recently, the Quartet was awarded 'finalists with distinction' for the Hitmaker International Chamber Competition and will compete in Singapore next February.
In the months to come, they will share a concert with the Shanghai Quartet, playing Bartók's String Quartet No. 4. The quartet will also be featured as soloists with the Tianjin Juilliard Orchestra, performing Hungarian composer Ádám Kondor's Vita Nova, as part of the inaugural Tianjin Juilliard Modern Music Festival in 2021.
Instrument sponsorship by W. E. Hill & Sons

The MILA Quartet are performing on W. E. Hill & Sons instruments on loan by a Shenzhen-based philanthropist and collector Ms. Li. The quartet members were beyond thrilled about receiving instrument sponsorship from W. E. Hill & Sons. The four instruments used by the MILA Quartet were made under the supervision of celebrated luthier Robert Young at W. E. Hill & Sons. Young visited the School in January to offer support in tuning the instruments of faculty and students. He also guest-lectured on violin making to an audience of Pre-College students. Upon hearing that the MILA Quartet was on the lookout for new instruments, he did not hesitate to offer support to them. 
Dean Wei said: "We are truly thankful to Robert and W. E. Hill & Sons for their wonderful support towards our students and sharing in our teaching philosophy at the School. They are making a real difference in the lives of our young artists through this sponsorship." 
Based in London, Young shared more on the process of making these four instruments which were tailored made for the MILA quartet. He and the other luthiers at W. E. Hill & Sons modeled them after the instruments that Antonio Stradivari made during his golden years. They worked day and night, finishing the cello first. In making the violins and the viola, they aimed to maintain good balance and coordination between the four instruments. 
Ke Karl Zhu from the MILA Quartet was ecstatic. "A musical instrument to a musician is like a palette to a painter or a block of marble to a sculptor. What Robert made for us is deeply special as each instrument sound creates extremely rich textures for the music we play. The viola and the cello sound mellow and textured, while the two violins are clear and detailed," he said. 
Added Zhangjuan Liu and Huan Ci from the MILA Quartet, "In our recent rehearsals and performances, we worked to bring out more colors from these instruments and felt that they could make our music better. It was only when we heard how the four parts met and resonated, did we truly understand how wonderful chamber music can be."
A spokesperson from W. E. Hill & Sons who attended recent concert featuring the MILA Quartet, Lin Niyu said she was deeply moved upon hearing their performance. Lin said: "It is the mission of W. E. Hill & Sons to give all possible support to young musicians such as the MILA Quartet. The Tianjin Juilliard School provides a highly nurturing environment for young musicians. We are pleased to offer these instruments and be part of their musical journey. It is our sincere hope that these musical instruments will help the young musicians pursue excellence and become great masters of music."
About the MILA Quartet members
Ke Karl Zhu
Violinist Ke Karl Zhu was prize winner of the Menuhin and Tchaikovsky Competition for young musicians. He also won the first prize of Eisenberg-Fried Concerto Competition in the United States and the "Jin Zhong" String Quartet Competition in China. Zhu has participated in the Kronberg Academy, Morningside Music Bridge in Calgary and Texas Music Festival. He received his bachelor's and master's degrees in Violin Performance from the Manhattan School of Music. His previous teachers include Lucie Robert and Weidong Tong. Zhu is studying with Guillaume Sutre at The Tianjin Juilliard School. 
Huan Ci 
Violinist Huan Ci was the first prize winner of the "Thomas Cooper" International Violin Competition in China area and the third prize winner of the Hong Kong International Violin Competition. He has participated in Meadowmont and Texas music festivals as well as the Baroque Music Festival in the Shanghai Conservatory of Music. He received his master's degree in Violin Performance from Johns Hopkins University's Peabody Institute and his bachelor's degree from the Yong Siew Toh Conservatory of Music in Singapore. His teachers include Hong Wang, Jun Zuo, Keng-Yuen Tseng, and Weigang Li.
Zhangjuan Liu 
Violist Zhangjuan Liu was second prize winner of the Princess Galvani Vadhana International Ensemble Competition in Thailand. Liu has appeared in festivals including Sarasota Music Festival and Aspen Music Festival. In 2014 and 2015, she was invited to the Ozawa International Chamber Music Academy and the Seiji Ozawa Matsumoto festival. She received her master's degree in Viola Performance from Rice University's Shepherd School of Music and holds a bachelor's degree from Yong Siew Toh Conservatory of Music in Singapore. Her teachers include Sheila Browne, James Dunham, Manchin Zhang, and Honggang Li.
Xinyang Lv
Cellist Xinyang Lv was a third prize winner of the Great Wall International Music Academy Chamber Competition in 2013 and second prize winner of the International Players of Busan in 2014. She received her bachelor's degree from the Central Conservatory of Music in Beijing. After graduating, Lv worked at the Symphony Orchestra of the Central Conservatory of Music. Her previous teachers include Mingqing Yu and Lixing Jiang. She is studying with Yeonjin Kim and Nick Tzavaras at The Tianjin Juilliard School.