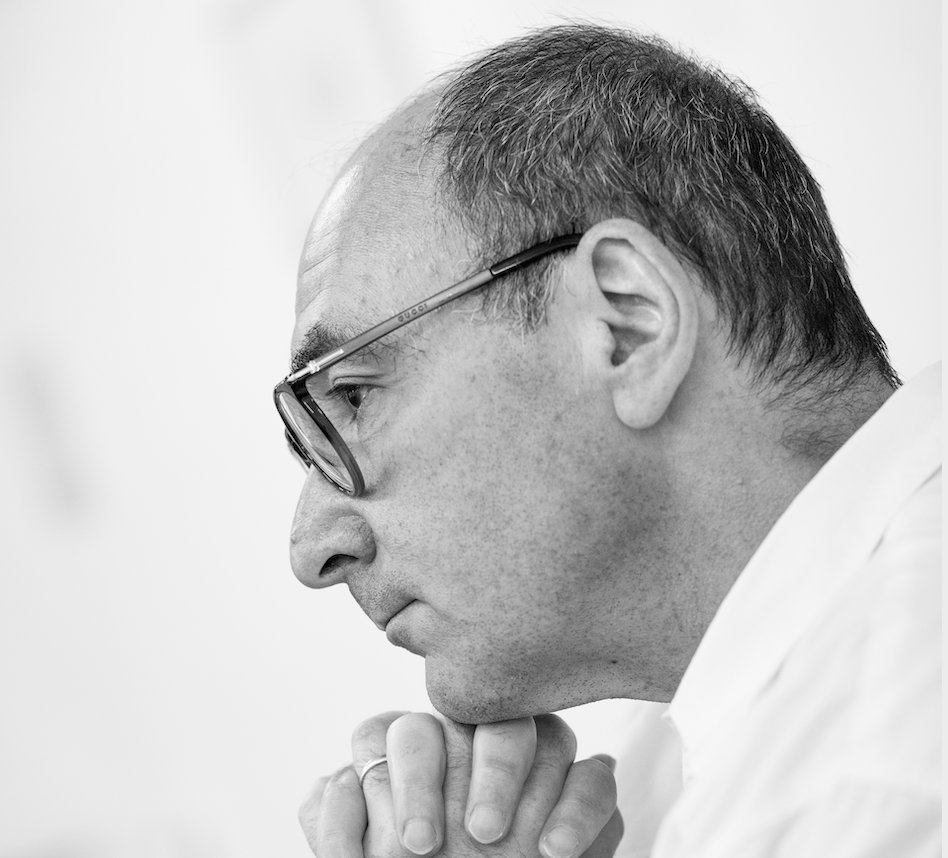 Ádám Kondor Photo Credit: Kardos Gabor
Ádám Kondor is a living Hungarian composer whom our flute faculty, Gergely Ittzés has worked with in the past. Ittzés praises his original works as "modern and very individual." Since 2001, Kondor has lived in Budapest. In 2012, he moved to Thailand, and lived there for four years before going back to Hungary. At present, he lives in a small village near the Austrian border. Having lived in Thailand, Kondor's music also responds to the east-meets-west elements that we often find in Bartók's music. Kondor studied composition at the Béla Bartók Secondary School of Music in Budapest, then at the Liszt Ferenc College of Music, with Miklós Kocsár and Sándor Szokolay. The influences of his mentors Mesias Maiguaschca, Zoltán Jeney, Sándor Végh, Loránd Fenyves, Miklós Kocsár, and Sándor Szokolay can be felt in his philosophy and compositions, including Vita Nova ("new life").
Vita Nova is a "portrait" of the Hungarian composer, András Szőllősy. This work will be performed by the Tianjin Juilliard student orchestra in the closing concert. According to faculty member Julia Glenn who wrote the program notes, "Kondor's chromaticisms, energetic and linguistically-informed rhythms, axal tonality, and undeniable expressivity – all hallmarks of Bartók's legacy – successfully bring new life to Szőllősy and to Hungarian music."
Although two of his pieces, Schattenwelt, Schlachtfeld and Glücklichen Dorfmusikanten which are featured on the festival program, were written 20 years apart from each other, Kondor states that his style has not changed significantly. Today he composes basically the same way he did as he started 40 years ago. Kondor shares his thoughts on composing his piece, Glücklichen Dorfmusikanten, (2020, world premiere) at the upcoming Festival Connect. 
Glückliche Dorfmusikanten
This piece for quintet is written in a diatonic-tonal-functional (harmonic) style. Does this mean that I joined the camp of neo-tonal, neo-romantic composers? No. I have a rather consistent style of my own, which is well represented by Schattenwelt, Schlachtfeld and Vita Nova. I use the 12 tones freely, even quarter-tones sometimes, with freely emerging structures. Which means that I don't use any kind of higher-level rules - not even pre-existing formal concepts.
The point is to let the work emerge freely from a compositional practice, which is more similar to a dialogue. It is possible, that some kind of logic or structure can be detected which binds together the notes of a composition, but these are always just some ad hoc, emergent phenomena coming to existence in the process of writing the piece, they are never predetermined.
The main characteristic of this kind of compositional technique or compositional process is that every feature of the piece is in a constant state of reevaluation until the piece is finished somehow. In some earlier works, even the instrumentation was not constant from beginning to end).

I noted very early on, that sometimes my imagination works in the opposite way and produces not only whole compositions in an instant, but rather complete musical styles which are quite distinct from my own musical language or, for that matter, from anything I ever heard or knew. This quintet is an example of this. I don't understand the process exactly, but somehow, I feel as if I had a sure command of a well-defined musical style which is 'not mine.' Something which could have probably existed earlier at some point in music history without reminding us too closely to anything we know. I would stress that these kind of compositions (which are representatives of an 'imaginary' style) are not fully 'contemporary'. To me, they represent some potential ramifications or branches of music history which never realized themselves but could have been.