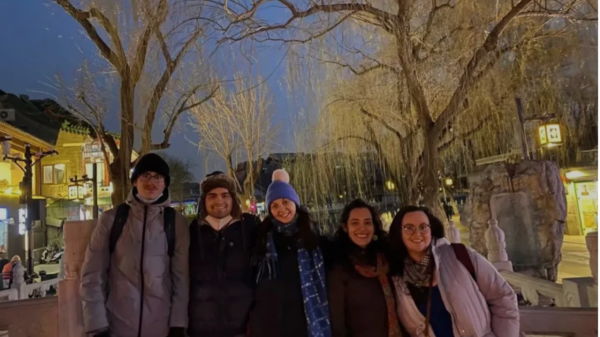 This winter, our graduate students from 11 different countries and regions spent their first winter break and Lunar New Year holiday at Tianjin Juilliard. Student Affairs arranged a variety of fun activities, including pizza and movie nights, chamber music reading parties, Chinese dumpling-making, as well as cultural forays to visit historical sights such as the 600-year-old Forbidden City and the surrounding hutongs.
"The holiday break provided an opportunity for students to explore different corners of Tianjin as well as Beijing. The students all worked very hard throughout the academic and performance blocks of the Fall semester and it was gratifying to see them get a chance to relax and experience some of the beauty and culture in this part of China," Audrey Axinn, associate dean of academic and student affairs, said.
One of my favorite nights here was during the Winter Solstice where we learned how to make dumplings together. One of the coolest and most meaningful ways to share a part of one's own culture is to cook for someone else. You're literally creating something that gives energy to someone else  – how cool is that? In a lot of ways, this is exactly what we do onstage as musicians if we are doing our jobs well: we spend so much time refining our craft, finding our voice, and learning how to use it clearly so that we can create moments that give energy to the people who come to hear us as well as the colleagues that we share the stage with. Spending time immersed in another culture has been eye-opening and transformative in so many ways. It has greatly changed how I communicate, both on and off the stage.
Bethany Lawrence, first-year master's oboist, orchestral studies
Visiting the Great Wall was one of my first experiences in China. Like many foreigners, I was thrilled to see such an ancient and gigantic structure. I feel very lucky to be able to visit many countries and being at the Great Wall brought my thoughts to a very interesting direction. Hopefully it is one more reminder for me that life is an amazing journey, full of joy. We can go to new places and reflect on ourselves through music. Visiting new places not only changes my mindset but also gives me a new perspective on life.
Alla Sorokoletova, first-year Master's flutist, Orchestral Studies