Last fall, a new generation of musicians from different parts of the world arrived at Tianjin Juilliard with fascinating stories to tell. We checked in with two Instrumental and Orchestral Studies students, Ryan Shaw (MM '24, trombone) and Sunny Jin (MM '24, cello) after their first semester, to learn more about their experiences so far and goals for the future!
Born in the United States, Ryan is a first-year student of the Instrumental and Orchestral Studies major who finished his bachelor's degree in Music Performance at Boston University and a Bachelor of Arts in Chinese Language and Literature. He started learning Chinese while he started learning music, so he thinks this is the best place to develop both passions of his life.
Sunny was born in Australia, and she lived in China during her childhood. Then, she moved to New York, where she completed her pre-college and undergraduate studies at the Manhattan School of Music.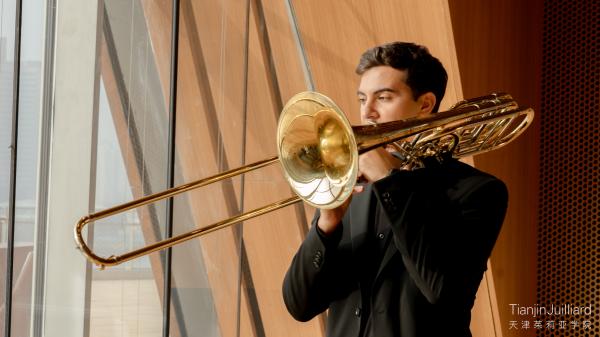 Ryan Shaw (MM '24, trombone)
First, Juilliard is just an incredible school, and to have the opportunity to study music and live in China at the same time is the perfect combination for me. What I love about the campus, is the fact that there is always somewhere to practice. I also really like the fourth-floor library. It is calm, quiet, and a perfect space for studying. Being here allows me to be at one of the world's best musical institutions and be immersed in Chinese culture simultaneously. However, even if I had not studied Chinese, I would have still wanted to come here because there are lots of opportunities for innovation.
Despite the long journey from the United States to China, there were amazing people from Tianjin Juilliard that helped me along every step of the way. I am so grateful to everyone who helped me, from starting the application process to traveling here from the United States. 
I am still trying to set my goals for the next two years, but I see myself improving my abilities on the trombone and becoming a much better musician than the one I came here as. Additionally, I believe that Tianjin Juilliard will equip me to find myself as a person, and begin a fulfilling, lifelong career. One of my projects is also learning to play the guzheng, a traditional Chinese instrument. I just started some private lessons because I think learning a traditional Chinese instrument is a good way to both practice my Chinese and to connect to the Chinese culture a little bit more. That will be something unique for me to take with me for the rest of my life.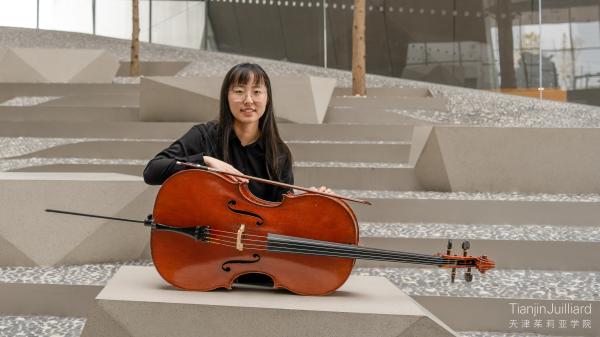 Sunny Jin (MM '24, cello)
I heard about the School during the first year of my undergraduate studies, soon after Tianjin Juilliard's founding. Last year, while applying for graduate school, I looked at Tianjin Juilliard again and became very interested in the Instrumental and Orchestral Studies major.
I really like collaborating with others at Tianjin Juilliard. During my undergraduate studies, I did not have many opportunities to play in orchestras because the bachelor's program was more focused on solo performance, so at present, I am really enjoying the weekly rehearsals, which are at the level of a professional orchestra.
At first, I was very nervous playing with the Tianjin Juilliard Orchestra because we had to learn a lot of things very fast, however during the performance I was excited. The process of learning the pieces was intense but also very rewarding at the end. With our amazing conductor, Ken Lam, we were able to put together an amazing performance! 
As an Instrumental and Orchestral Studies student, I would like to learn more orchestral repertoire, on top of improving my cello playing. One of my main goals for the future is to become a more well-rounded musician, and to be more sensitive to my surroundings and communicative to others using music.
Photos: Yilin Yu