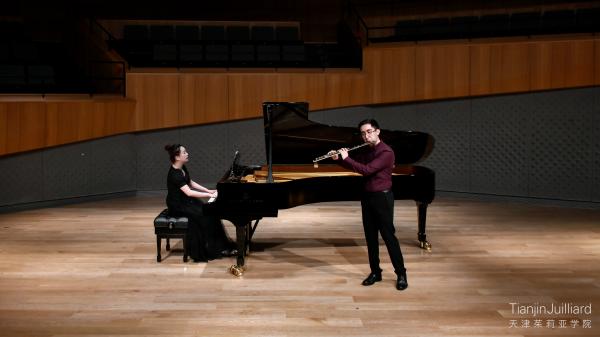 As we approach the end of the fall semester, we followed up with Diego Acosta (MM '24, flute), as he reflects on his first semester as a Tianjin Juilliard student and shares his goals for the next two years.
I am a flute player from Mexico and a first-year student of the Orchestral Studies program. I come from a beautiful city called Xalapa, and I finished my undergraduate degree at the University of Veracruz. After graduation, I was convinced that I wanted to continue my education abroad. I knew that the cultural exchange element of being an international student would enrich my musicianship.  Tianjin Juilliard could not be a better place for finding what I wanted! While I just started my studies at Tianjin Juilliard, it is already becoming one of the greatest adventures of my life.
My time studying at Tianjin Juilliard has been full of amazing experiences, new challenges, great people, and invaluable knowledge that I am sure I cannot find somewhere else. It is just fascinating to think that there are wonderful stories told by the next generation of young artists and happening inside the walls of this new Juilliard campus in China.  The environment inspires me every day.
The musical activities happening on campus are very exciting. In recent months, the Tianjin Juilliard Orchestra, the Tianjin Juilliard Ensemble, and the Chamber Music and Collaborative Piano majors have all put on concerts, in addition to many other projects organized by the students and faculty.  Recently, we had our second orchestra concert conducted by maestro Ken Lam, where we played Weber's der Freischütz Overture, Wagner's Prelude to die Meistersinger von Nürnberg, Niccolo Athens' "A Jiangnan Overture," and Brahms' Second Symphony. Although I really enjoyed playing in the concert, the process of rehearsing was my favorite part. Having maestro Ken Lam as our resident conductor has been very inspiring for everyone because he is always encouraging us to make great music together and be more sensitive, collaborative musicians.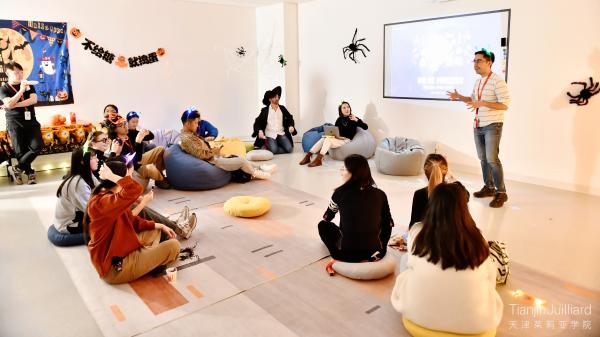 Additionally, I am very happy to be surrounded by an international community of students and teachers. I love having the chance to learn from many different cultures while also enjoying life in one of the most ancient civilizations in the world. I think it is fascinating that cultural exchange can come through music, and I love being able to share parts of my culture with my classmates. For example, a couple of weeks ago we had a Halloween party where I could also share something about the Day of the Dead in Mexico, which is one of my favorite traditions. This and many other events happening on campus and outside school have given me the opportunity to connect with my classmates and build new friendships.
Time flies and my first semester at Tianjin Juilliard is about to finish. I really look forward to finding new paths for my career in the next two years while also getting to know myself better through music making. Every day while practicing my instrument, I like to think that I am not only working on my flute playing, but also on my creativity. One of my goals during my time here at Tianjin Juilliard is learning to speak Chinese. Hopefully, I can say more than just "hello" by the end of my time here!
Photos: Shengyi Visual