Located next to the beautiful Haihe River in Binhai, the area surrounding Tianjin Juilliard has so much to offer. The campus is just minutes away from a high-speed train that takes 25 minutes to get to downtown Tianjin and under an hour to get to Beijing. Instrumental and Orchestral studies majors Viktoriya Klyukina, (MM '24, flute) and Karri Cheng, (MM '24, violin) share their experiences exploring Binhai, Tianjin, and Beijing.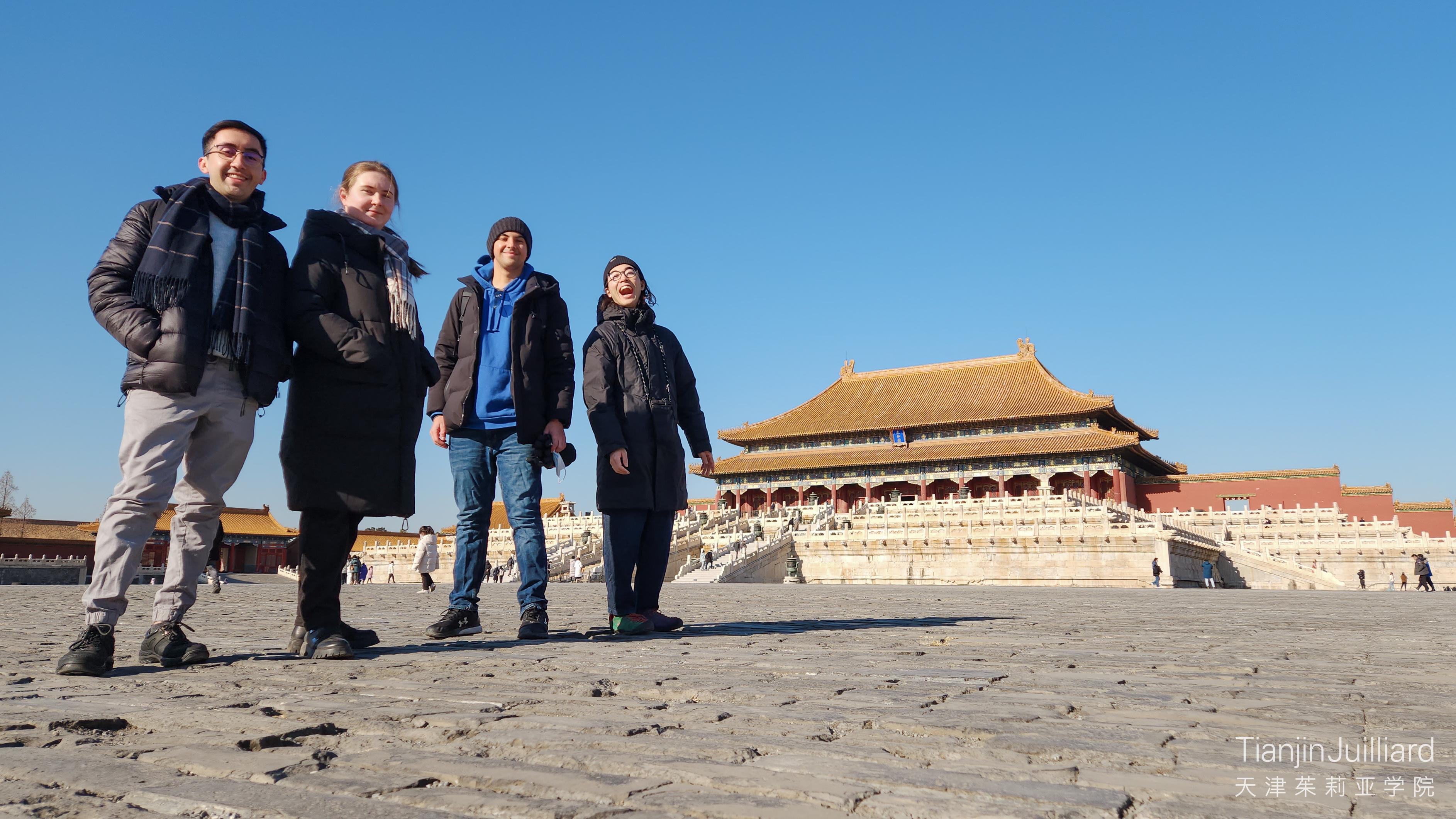 I like the park near the Residence Hall and take walks there when I have time, I find it very relaxing when I am busy with rehearsals, concerts, and classwork. Binhai is a quiet district, and I think this kind of environment helps us focus on our musical studies. I also like that we have a lot of different options for groceries, especially since I like to cook my own meals. You can easily get fresh ingredients or even order them to-go. I love the Chinese food delivery system; it is very convenient! I can order at 9am on a Sunday morning, and after breakfast, my order is promptly   at my door. In contrast, downtown Tianjin offers a variety of activities and attractions. It is much more similar to Beijing. In some ways, downtown Tianjin and Binhai complement each other as they offer two different kinds of lifestyles, despite being close by. I have gone downtown to repair my instrument, hang out with my friends, and go shopping. If you like international food, you can also find all kinds of cuisines, including Japanese, Indian, Mexican, Korean, and Italian restaurants. 
One month ago, I visited Beijing for the first time, and it was amazing! While it was very different from Tianjin, I enjoyed the big-city vibes. It was full of life and there were lots to do with my friends. Best of all, it is only a 40-minute train ride from the Binhai Railway Station. Once you arrive, it is pretty easy to get around Beijing using public transport. I went there to celebrate Lunar New Year and visit some of the most famous tourist attractions, including the Forbidden City, Temple of Heaven, and the Summer Palace. The food was one of my favorite things about Beijing. We got to enjoy delicious traditional Sichuan cuisine, Peking duck and Beijing-style Hot Pot. It was my favorite culinary experience in China!  
Viktoriya Klyukina, (MM '24, flute)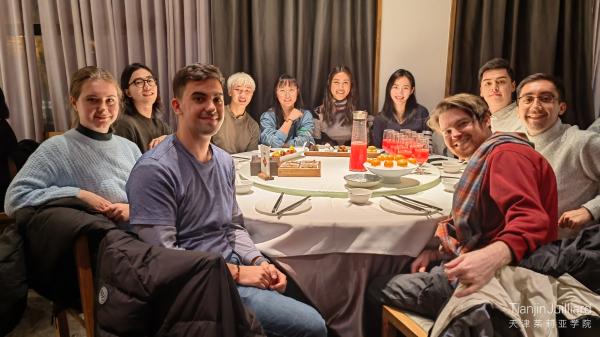 My life in Binhai is simple and I love that: playing great music in school, practicing my instrument, and enjoy spending time with myself and my friends.  I am not a fan of crowded places, so the tranquility of Binhai is exactly what I need.  My favorite part of living here is that the Haihe River runs right next to our campus. Because we are not surrounded by taller buildings, it is possible to enjoy the sunshine and beautiful sunsets, even from the violin studio on campus. When I have free time, I like going to the karaoke, watching a movie or going out for dinner. Some of my favorite places include a Japanese restaurant and a Mexican restaurant nearby. In February, I went to Beijing for the first time with some friends to watch my professor, Angelo Xiang Yu, perform with the National Centre for the Performing Arts Orchestra (NCPA).  We arrived around noon and had lunch in a Thai restaurant before the concert. I enjoyed visiting the NCPA for the first time. The venue was huge! There are eight concert halls inside, with many events happening at the same time. In my opinion, Beijing is very different compared to Binhai, but Tianjin Juilliard's location allows me to get the best of both worlds.  
Karri Cheng, (MM '24, violin)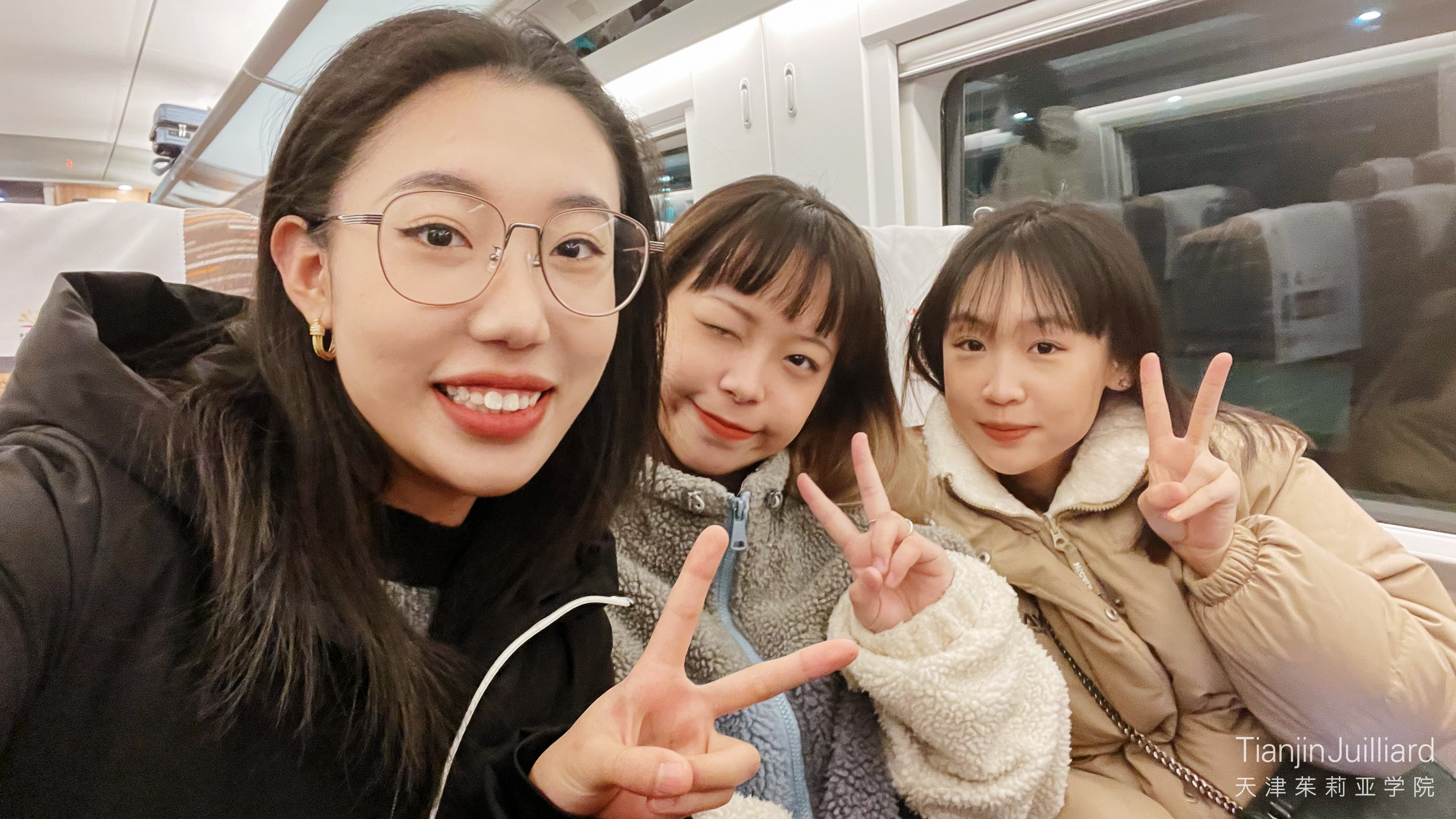 Photos courtesy of Diego Acosta and Karri Cheng