Tianjin Juilliard held its second commencement ceremony on Friday, May 19 at the Tianjin Juilliard Concert Hall, honoring its 35 graduate students receiving Master of Music degrees from The Juilliard School.  
In addition to the conferral of the degrees, this year's ceremony featured an address by world renowned violin virtuoso and Juilliard faculty member Itzhak Perlman, remarks from Juilliard leadership, and student performances.  
The commencement ceremony was kicked off by Wei He, CEO and artistic director of The Tianjin Juilliard School. Juilliard's president emeritus, chief China officer, Joseph W. Polisi, together with Changjun Xu, Chancellor of The Tianjin Juilliard School, witnessed the important milestone with honored guests and partners of the School. Juilliard President Damian Woetzel and Provost Adam Meyer also addressed the class of 2023 and congratulated the graduates. 
As the commencement speaker at this year's ceremony, world-renowned violin virtuoso Itzhak Perlman encouraged the graduates to use inspiration to motivate and to find new ways of communicating one's artistry to others, urging them to explore various opportunities and be open-minded in their playing, practicing and career choices.     
Commencements are all about beginnings, and you will now take your place in a profession that has an honored and demanding tradition dating back centuries. If you expect certain career results, and they don't work out, don't give up. The music profession has changed significantly since I was a student. Use your imagination to adjust to these changes. Your decision should not be narrow or close-minded. Explore all the possibilities before you — performing, teaching, administrating, entrepreneurial activities, crossover possibilities. Search for what gives you pleasure through music. I think we are all so lucky to be musicians in any shape of form.
Itzhak Perlman
violin virtuoso
At the ceremony, the Tianjin Juilliard School Prize was awarded to Jingzi Ruan (MM' 23, piano, Instrumental and Chamber Music Studies major), recognizing her outstanding artistic achievements and academic excellence in all areas of endeavor.
The Joseph W. Polisi Award was awarded to Jaben Sim (MM' 23, horn, Instrumental and Orchestra Studies major) for exemplifying the school's values of "artist as citizen" and is pictured here with the president emeritus at the post-ceremony party.
Dean Katherine Chu also presented the Dean's List Award to four graduate students: Zhiyi Dong (MM '23, violin, Instrumental and Orchestra Studies major), Jingzi Ruan (MM '23, piano), Jordan Christopher Dale (MM '23, oboe, Instrumental and Orchestra Studies major), and Youngeun Lee (MM '23, violin, Instrumental and Chamber Music Studies major) in recognition of achieving the highest grade point average at The Tianjin Juilliard School. 
Student representative speaker Zhiyi Dong (MM '23, violin) delivered a speech on behalf of the graduates.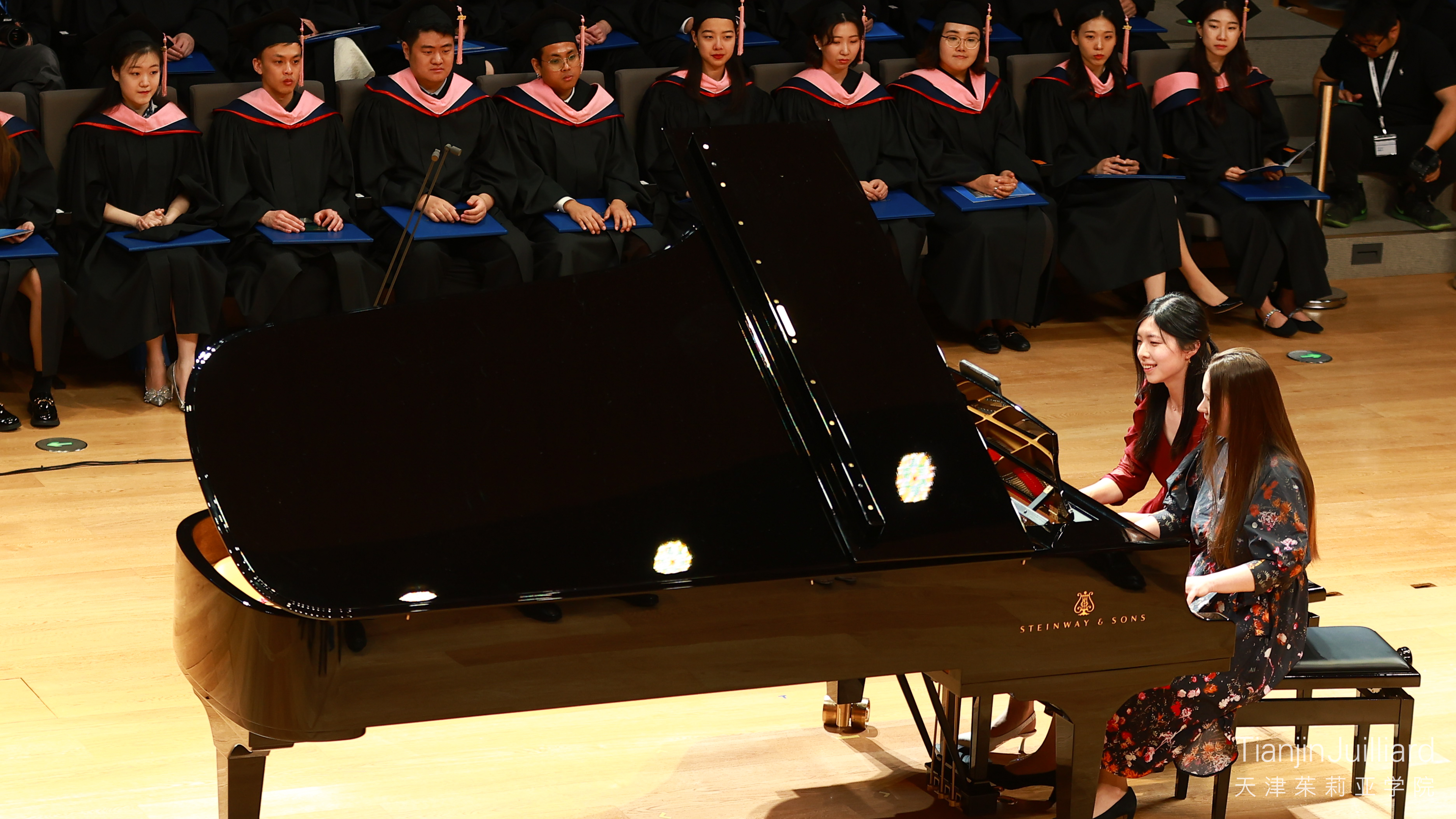 You are about to embark on your journey as artists, as teachers and as leaders. You will continue to question, to observe and to reflect as a lifelong learner. You will continue to refine your craft and your vision with growing confidence. You will continue to develop a keen sense of listening as a musician, as a collaborator, and as a communicator. The art of communication and collaboration is listening: listen to each other, understand each other, complement each other, and support one another. Be the bridge between people, between cultures, and try to find common ground, and be an artist citizen leading and serving the community, shaping our society, and bringing hope to the world.
Wei He
CEO and the artistic director of The Tianjin Juilliard School
Even though we've known each other for almost two years, there's always more to discover in each other, including our potential for love and creativity, and that's why I want to thank the faculty and staff for nurturing that potential. We took a leap of faith to come here, and you guided us as we created two meaningful and memorable years. I have the highest level of confidence that what we learnt at Tianjin Juilliard has prepared us to be successful artist citizens. I hope we continue to cultivate our love and creativity, embracing future challenges with strength and hope.
Zhiyi Dong (MM '23, violin)
Student representative speaker
Photo Credit: Shengyi Visual, Hao Sun