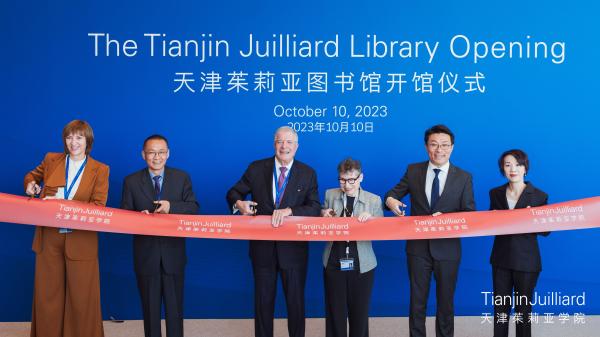 The Tianjin Juilliard School officially opened its library with day-long celebrations on October 10, 2023. The events of the day began with an opening ceremony that included remarks from Wei He, CEO and artistic director of The Tianjin Juilliard School, Joseph W. Polisi, president emeritus and chief China officer of The Juilliard School, Jane Gottlieb, vice president for library and information resources of The Juilliard School, and Irena Klaic, library director of The Tianjin Juilliard School.
The library not only functions as a center for research in our community, but also as an educational space that allows us to do research and analyze the great works of masters. It allows us to gain deeper understanding and appreciation of their ingenuity and get us as close as possible to the source that inspires this great community.
Wei He
CEO and Artistic Director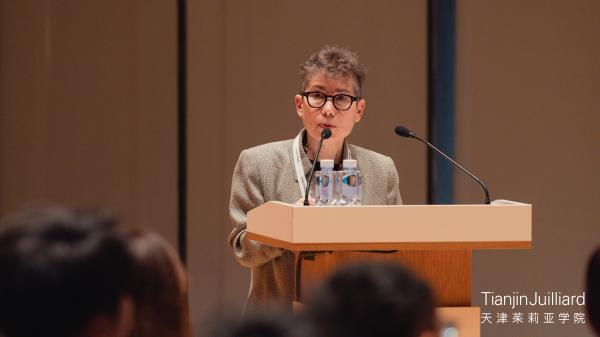 "Our program today demonstrates the close connections between performance and scholarship -- values that are embodied in our libraries here in China and in New York City," said by Jane Gottlieb.
Following the ribbon cutting ceremony, renowned Beethoven scholar Dr. Lewis H. Lockwood presented recorded remarks. Jane Gottlieb recognized Dr. Lockwood, as he generously donated his entire library of books and manuscript facsimile scores to Tianjin Juilliard. 
A keynote speech followed, with the title Of course the effect was the same – but not for the eye: Beethoven's own arrangement of the Große Fuge op.133/134, presented by musicologist Dr. Elisa Novara. This was followed by the scholar forum, where the floor was opened to questions and discussions about her leading research.
We are so happy now that we can be together and share the opening of this extraordinary part of the building. Which, of course, is a physical space, but, perhaps even more important, is a space where intellect, artistry, and education will thrive in the time ahead. A library is the heart, the mind, the entire system, in some ways, of what an educational institution is.
Joseph W. Polisi
President Emeritus and Chief China Officer
A tour of Juilliard Imagination preceded the culmination of the day's festivities in the lecture-recital. Beginning with Juilliard doctoral candidate Max Tan, who presented brief remarks on the five versions of Ernest Chausson's Poème, and performed the work with Tianjin Juilliard Pre-College faculty Feng Niu at the piano. The program then featured another short lecture by Dr. Novara on the Große Fuge, before the audience listened to both the string quartet and piano four hands versions in succession. The string quartet was performed by the MILA quartet, alumni of the Tianjin Juilliard Class of 2022 and recipients of Tianjin Juilliard Chamber Music Fellowship. Afterwards, Tianjin Juilliard faculty Ching-Wen Hsiao and Konstantinos Valianatos triumphantly braved the challenging piano arrangement.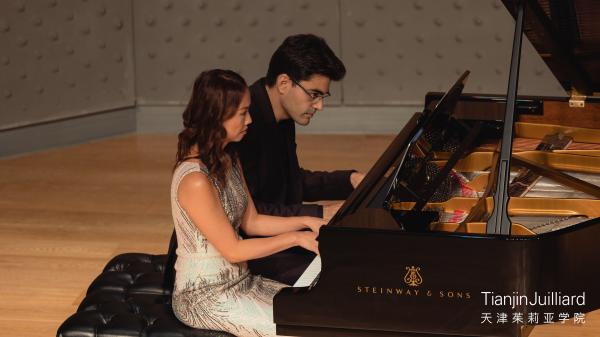 Second-year student Pei Yin Xu (MM '24, Instrumental and Orchestral Studies, horn), a student worker at the library, took part in the day's festivities. "It was such an honor to be a part of this long-awaited celebration. I am also excited to begin the binding and checking-in processes of our newly delivered scores and books. It is going to be a cool way for us student workers to leave a little legacy behind at the school." 
Photo Credit: Twan Vision