January 29 to February 5, 2021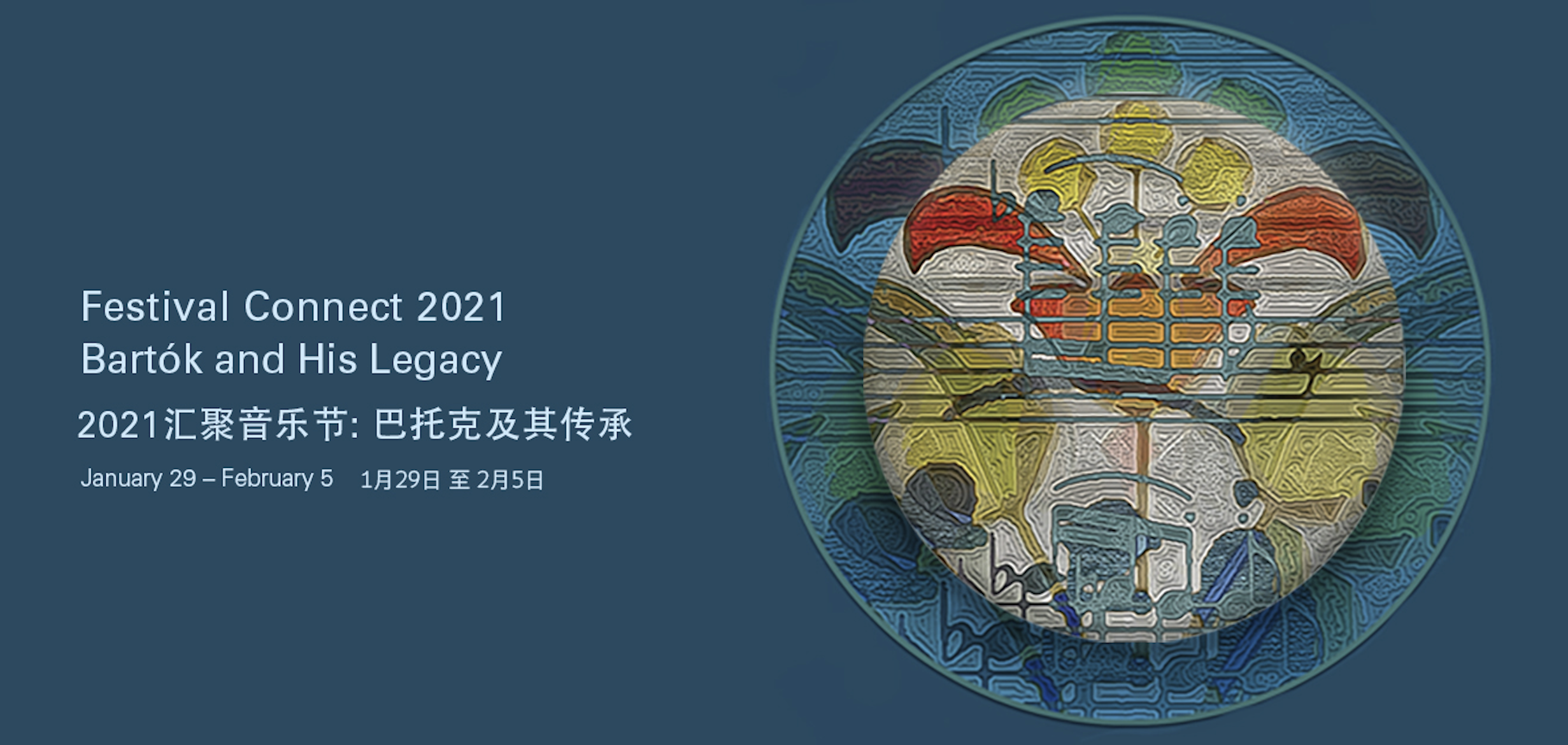 The inaugural Festival Connect opens on Friday, January 29, 2021 at 7:00pm in Tianjin Juilliard's Concert Hall with the Tianjin Juilliard Ensemble, the school's flagship resident faculty ensemble, and takes place through Friday, February 5, 2021. The festival aims to focus on one or two prominent composers from the 20th century each year, complemented by two living composers whose styles inherited and/or are derived from their predecessor's. Béla Bartók (1881 – 1945) was selected as this year's featured composer for the festival. The two living composers featured in the festival are Zhou Tian (China, b. 1981) and Ádám Kondor (Hungary, b. 1964) and the concerts will include their world premiere works. 
"First and foremost, as an educational institution, we hope our students—as well as our audiences—will be able to connect the dots between eras, ideas, and cultures through the lens of a singular, innovative musical genius," artistic director and dean, Wei He said.
Festival Connect is modeled after Juilliard's annual modern music festival, Focus, which offers a survey of a topic in contemporary music each year. In its first ten years, Festival Connect aims to showcase the central composer's masterpieces in performances, highlighting those works within the cultural and social context of the composer's world. At the same time, tracing the composer's legacy and special highlights of the composer's influence on contemporaries and future generations, especially living composers of our time. Learn more about Bartók and his legacy here.
Executive director and CEO, Alex Brose said, "The birth of Festival Connect in the midst of a global pandemic also represents our deepest desire for people to stay connected during a time of isolation and separation. The festival, like The Tianjin Juilliard School itself, is a celebration of new directions, collaboration, and discourse."
The festival also connects Juilliard's two programs in the United States and China as part of President Emeritus Joseph W. Polisi's vision of creating "One School, Two Campuses." This year, Tianjin Juilliard was able to invite visiting students from the New York campus to be part of the festival since many of Juilliard's Chinese students are still in China due to travel restrictions.
A series of five performances, including the opening concert with the Tianjin Juilliard Ensemble, three chamber music concerts with portraits of the two living composers, and a closing concert with the Tianjin Juilliard Orchestra, will be supplemented by talks, lectures, and special events. All festival programs will be held at the new landmark campus. According to assistant dean of performance activities, Yiwen Shen, the festival "provides students, music lovers, and musicians alike with an enlightening lens to explore historically important yet underrepresented works in the region and to discover the powerful and expressive nature of contemporary compositions."
The Shanghai Quartet, also Tianjin Juilliard resident faculty, will perform in two chamber concerts, playing Bartók's String Quartet No. 1 and Tan Dun's Feng-Ya-Song. Tan Dun (b. 1957) is another prominent composer who mingles idioms from different cultures. Tianjin Juilliard's fellowship string quartet, MILA Quartet, will be featured playing Bartók's String Quartet No. 4 and as soloists in Ádám Kondor's Vita Nova. Resident flute faculty Gergely Ittzés will be featured as the soloist in Zhou Tian's Viaje. Yeonjin Kim will play the solo cello part of Zhou Tian's Flowing Sleeves, a piece rearranged for solo cello and piano quintet from his cello concerto. Conductor Chen Lin leads the Tianjin Juilliard Orchestra in the final concert of the festival.
Festival Connect 2021
Bartók and His Legacy
Opening Concert
January 29, 2021, 7:00pm, Tianjin Juilliard Concert Hall
Tianjin Juilliard Ensemble
József Sári (b. 1935) Scenes (1988)
László Lajtha (1892-1963) Quatre hommages, Op. 42 (1946)
Zoltán Kodály (1882-1967) Serenade for Two Violins and Viola, Op. 12 (1919-1920)
Béla Bartók (1881-1945) Contrasts for Violin, Clarinet and Piano (1938)
Chamber Music Concert I
February 1, 2021, 7:00pm, Tianjin Juilliard Concert Hall
Béla Bartók (1881-1945) Book 4 from 44 Duos for Two Violins (1931)
György Ligeti (1923-2006) Six Bagatelles for Wind Quintet (1953)
Sándor Veress (1907-1992) Tre quadri for Piano, Violin, and Cello (1963)
Tan Dun (b. 1957) Feng-Ya-Song (1982; rev. 2018)
Chamber Music Concert II
February 2, 2021, 7:00pm, Tianjin Juilliard Concert Hall
Béla Bartók (1881-1945) Concert
String Quartet No. 4 (1928)
String Quartet No. 1 in A Minor (1909)
Chamber Music Concert III
February 3, 2021, 7:00pm, Tianjin Juilliard Recital Hall
Ádám Kondor (b. 1964) Schattenwelt, Schlachtfeld (1999).   
Endre Szervánszky (1911-1977) Trio for Flute, Violin, and Viola (1951)
Zhou Tian (b. 1981) Joy for String Quintet (2016)
Ádám Kondor (b. 1964) Glückliche Dorfmusikanten (2020, world premiere) 
Zhou Tian (b. 1981) Flowing Sleeves for Cello and Piano Quintet (2020, world premiere) 
Closing Concert
February 5, 2021, 7:00pm, Tianjin Juilliard Concert Hall
Tianjin Juilliard Orchestra
Chen Lin, Conductor
Béla Bartók (1881-1945) Romanian Folk Dances (1915)
Ádám Kondor (b. 1964) Vita Nova for String Quartet and Strings (2012)
Zhou Tian (b. 1981) Viaje for Flute and Strings (2016)
Zoltán Kodály (1882-1967) Dances of Galánta (1933)
Béla Bartók (1881-1945) Dance Suite (1923)