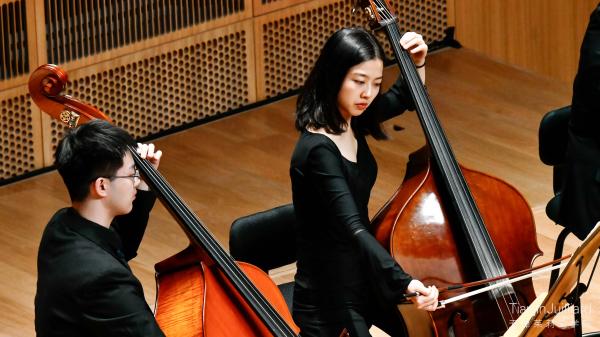 With the fall semester in full swing, second-year master's students, Gege Man (MM '23, double bass) and Danilo Ignacio Contreras Osorio (MM '23, trombone), share their experiences from their first year, their goals for this year, and their favorite spots on and off campus. Before coming to Tianjin Juilliard as Instrumental and Orchestral Studies majors, both Gege and Danilo completed their undergraduate studies at the Yong Siew Toh Conservatory of Music in Singapore. 
What advice can you give to the first-year students navigating life at TJS? 
Gege Man: Reach out, talk to people, and make friends! At Tianjin Juilliard, I have been able to form deep connections with others. I have always preferred to have meaningful discussions about the art we make and the lives we lead, rather than just making small talk, and people here are willing to engage in that. I remember having multiple in-depth conversations with my friends, and I will forever cherish those moments. With such a tight-knit community, you can talk about more than the weather, and get to know the people who you wish to connect with. 
Danilo Ignacio Contreras Osorio: Take time for yourself and ensure that you are well-rested. Even though your first year will be very busy, do not feel pressured to get everything perfect. As students, it is important to enjoy and learn from the process, while being kind to yourself. Mental health should always be a priority. Sometimes things do not go the way we want, but instead of allowing it to drag us down, we can always use it as a learning experience to elevate ourselves. 
What are your favorite cafés, restaurants, or places to hang out off-campus?  
Gege: I would say a cozy little café called "Un Lion" is my favorite off-campus hangout. I love their desserts! I also feel more productive when I do my homework in a café. 
Danilo: My favorite places to hang out are Tee Hoo, which serves good Mexican food and cocktails, and a live music bar called the Guitar Cabin. 
What is your favorite spot on campus? 
Gege: The river view seating area, next to studio lane. There is a great view of the sunset. But honestly, I enjoy any spot where I can see the river. 
Danilo: The open space right outside our Orchestra Rehearsal Hall on the fourth floor. The views are terrific, especially at night. 
Any new goals for the new school year? 
Gege: I want to practice better time management, exercise more, and read more consistently. Also, I wish to continue connecting and reconnecting with people in meaningful ways and be inspired by life here in Tianjin. 
Danilo: My goals for this school year are to win an orchestra audition, perform well in the school's annual concerto competition, and continue forming my artistic identity.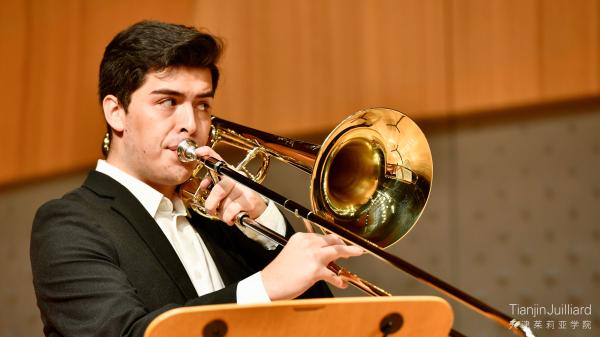 Photos: Shengyi Visual