As a center for training the next generation of collaborative artists, we are proud of the achievements and successes of our Tianjin Juilliard graduates. Our graduates have been offered positions in leading orchestras, many also work full-time in institutions and others have thriving ensemble careers. We caught up with three Instrumental and Orchestral Studies alumni Bethany Lawrence (MM '22, oboe), Ruifeng Xu (MM '22, horn), and Zimo Sun (MM '22, double bass) on life after Tianjin Juilliard, their careers in the orchestral world, and how experiences at school shaped their current paths.
Bethany Lawrence (MM '22, oboe)
I am currently with the Shanghai Opera House Orchestra, and I gave my first performance with the orchestra in late September. We perform a very diverse repertoire, including operas, opera excerpts, song cycles, and concertos from a wide range of time periods and traditions, and I am enjoying this level of diversity.
Studying in China is my very first experience living outside of Texas, United States. One thing that became apparent when I arrived in China is the growing number of professional opportunities here. The number of Chinese orchestras has increased by 80 in recent years, and that made me curious about possible career opportunities in a place with growing public interest in classical music. I have always been a person who has focused more on journeys instead of destinations, so I am happy to see where this journey will take me.
Coming to Tianjin, the most important thing for me was to stay open-minded and just roll with the punches. I knew from the interactions I had with my professors and classmates that this could be a life-changing opportunity, so long as I stayed open to change and opportunity. That was absolutely the right instinct.
The work I did at Tianjin Juilliard left me with a very high personal standard for my music making as well as tools to consistently reach that standard, and the confidence I have gained from that has given me a level of self-validation that I didn't know I needed. As far as opportunities, studying at Tianjin Juilliard connected me directly with very significant career opportunities as well as the ability to rise to the occasion and take advantage of those opportunities.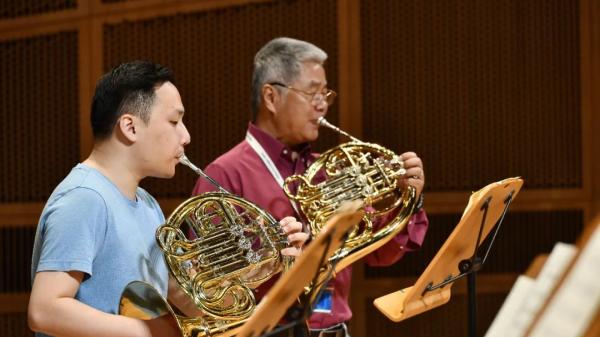 Ruifeng Xu (MM '22, horn)
I am very lucky to be able to continue working with so many of my classmates after graduation. There are five of us from the same Orchestral Studies cohort who were recruited by the Shenzhen Symphony Orchestra. Besides performing in the Tianjin Juilliard Orchestra in school, we also performed many chamber music pieces together, which has allowed us to build a good rapport. Through this, we were prepared for the work in a professional orchestra.
The first performance I participated in was a dedicated concert for the 40th anniversary of the founding of the Shenzhen Symphony Orchestra, with a full house in attendance. The piece performed at that time was Gustav Mahler's Symphony No. 5, one of the most challenging pieces of the horn. I remember very well that there were a lot of excerpts from Mahler's Symphony No. 5 in the first orchestra seating audition we took as freshmen at Tianjin Juilliard, and - my professor, Mr. Chang Chou Han spent a lot of time explaining and training each excerpt for us. This illustrates the importance of practicing difficult pieces well at school as part of being well-prepared. Tianjin Juilliard invited many first-rate conductors to perform with us in the student orchestra. This helped us to adapt quickly to the diverse styles of different conductors. With ample experience rehearsing in a school orchestra, I am able to transition easily to a professional orchestra where I work with different conductors all the time. Since our school attaches great importance to the teaching and assessment of difficult orchestra segments, we have mock orchestra recruitment exams many times each semester. This has deepened our impression of difficult pieces and broadened our mastery of pieces. In a professional orchestra rehearsal, we often have less than two weeks to prepare the repertoire for performance. That's why practicing difficult segments is essential.
My ties with the school extend beyond interactions with my peers. I have kept in close contact with Mr. Han since we graduated. He has offered us a lot of advice and encouragement in our work and life, and he even gave online lessons to our horn alumni after graduation, instructing us so that we are in the best performance condition.
I've been very happy to perform together with great musicians from all over the world in the Shenzhen Symphony Orchestra for the past few months. My former classmates and I savor morning tea together in Shenzhen on weekends, and there are still many delicacies and attractions to be explored. We hope more alumni join us in the future to grow our alumni family here in Shenzhen!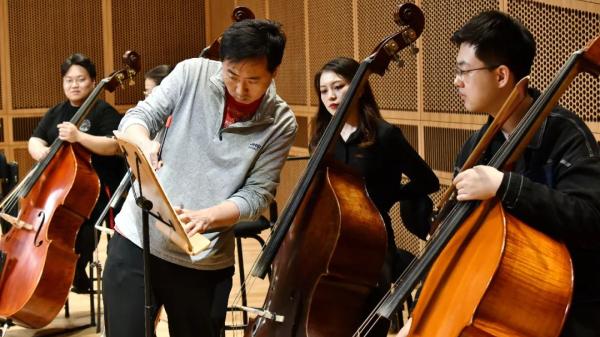 Zimo Sun (MM '22, double bass)
I come from Changsha City, Hunan Province, and to me, Shenzhen is both familiar and yet new. Since I started working with the Shenzhen Symphony Orchestra, I have gained a better understanding of this metropolis, which is full of diversity and inclusion. The Orchestra has always been one of the top orchestras in China, and is a source of pride for Shenzhen, as it nurtures the city's musical dreams! 
Last fall, I started to work with the Orchestra and I also joined its 2022-2023 performance season.  I am so excited to be able to work together with musicians who I recognize through programs previously and I found that the pace of the Orchestra life is so fast that I have to adjust myself to be well engaged in each performance.
At Tianjin Juilliard, I learned how to rehearse. Our teachers guided us to ensure the balance of the orchestra performance and offered professional suggestions, which are consistent with the knowledge and guidelines that I have learned for my rehearsals in the Orchestra. I still keep in contact with my teachers and former classmates at Tianjin Juilliard, and whenever I need advice or encounter problems in rehearsals, I can still get advice from my teacher DaXun Zhang.