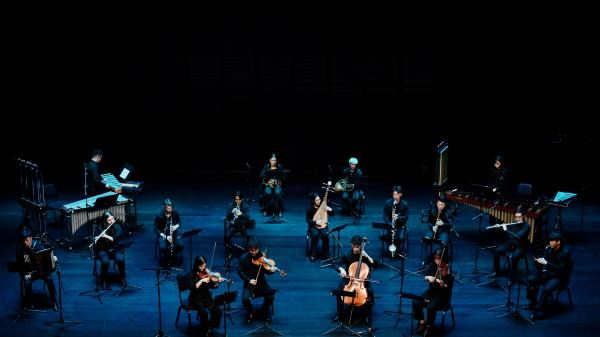 In January, Juilliard announced an inaugural, interdisciplinary performance series featuring music, dance, and drama students, with four offerings in the second semester of the 2022-23 school year. Named The New Series, it includes four to six presentations each academic year and features collaborations among guest artists, creators, alumni, and students from all of Juilliard's divisions. The series combines interdisciplinary creative forces to broaden the experience of both students and audiences. This year's events take place from January to April. 
As part of The New Series, a live collaboration between the students at Juilliard's two campuses—in New York City and Tianjin, China— took place on February 6. Students performed Terry Riley's iconic work In C together via Juilliard's Center for Innovation in the Arts. The ensemble consisted of musicians in New York and Tianjin, including 16 students from Juilliard, 13 students from Tianjin Juilliard, and 3 students from the Tianjin Conservatory of Music (who performed on pipa, sheng, and accordion, instruments used in traditional Chinese music). The multimedia production also featured interactive dance videos choreographed by Juilliard students.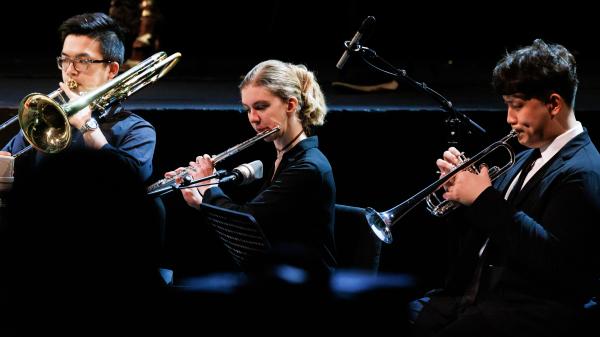 In C, considered one of the original works of minimalist composition, is written for no specific instrumentation and with no time signature or assigned parts. In place of more traditional notation, this one-page piece offers 53 short motifs that can be played by any instrument or combination as players follow each other over the course of an hour through the score. Every performance of Riley's seminal composition is a unique rendition of the work.  
This inaugural real-time collaboration between both Juilliard campuses and music students bridged a distance of 7,000 miles to create a single performance experience. Tianjin Juilliard students from the Instrumental and Orchestral Studies program shared their experiences after the performance.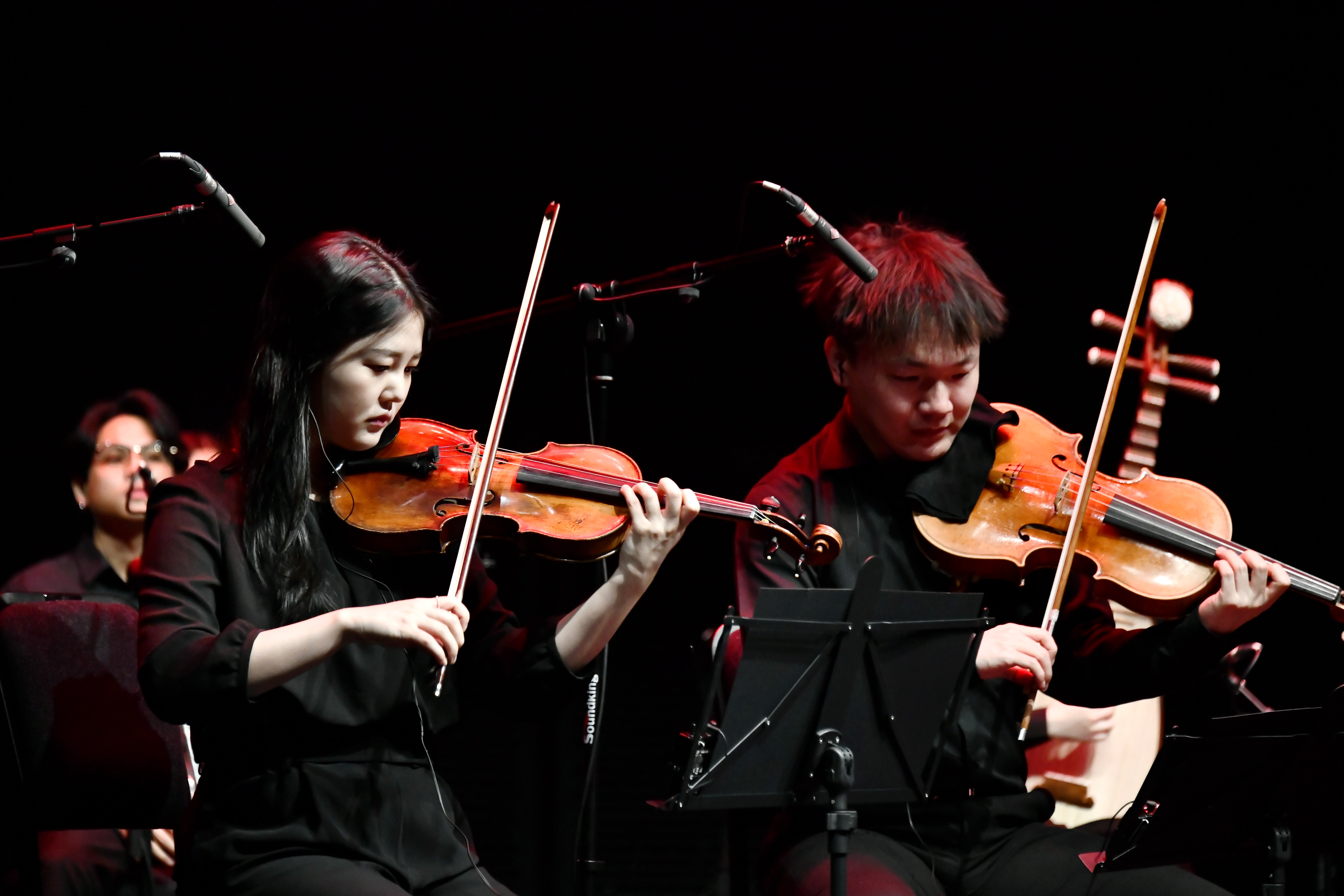 On the joint performance
Minseon Jung
MM' 23, violin
"When I first received the music, I was really curious about how this music was going to be performed. Even though the score did not have the standard format, it was amazing to play as an ensemble here in Tianjin and generate musical ideas with students in New York at the same time. I learned a lot during the rehearsals with our New York counterparts, listening to how each individual musician approached the same piece of music with their own interpretation."
– Minseon Jung (MM' 23, violin)
"As a first-year student, it was nice to feel a musical connection to the New York campus for the first time. It was also a new and interesting experience playing in an ensemble separated geographically, performing simultaneously.  
I got to work with some musicians from the Tianjin Conservatory of Music, who played on instruments such as the accordion, Pipa and Sheng. Even though this is not my first interaction with Chinese instruments, it was a true eye-opener to play alongside them in a modern musical context. This is a medium for me to connect more with my Chinese heritage, since I was born in Australia. The event has provided me many firsts and I am hopeful for the endless creative possibilities that could be achieved by both campuses working together." 
– Pei Yin Xu (MM' 24, horn)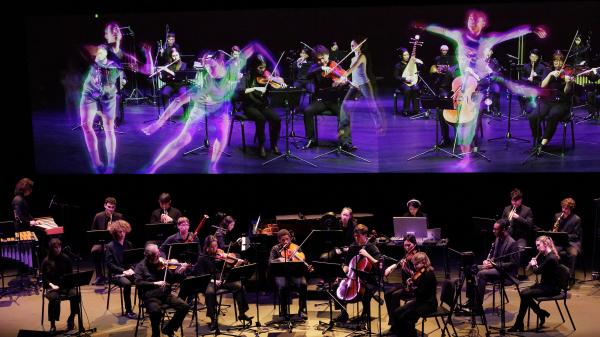 "It was a privilege to be able to participate in this collaborative project that demonstrates how we are two campuses under Juilliard. Distance was definitely the main challenge that both sides had to overcome to make a live music collaboration possible, but it is a great representation of the possibilities of future interactions between the campuses in Tianjin and New York. Additionally, I am optimistic that one day we will be on stage together physically.
At the start of the project, I was nervous whether we would be able to pull this off due to the number of musical and technical challenges. Having played similar projects in the past, I thought this collaboration would not be any different. However, I was pleasantly surprised with how many ideas there were on how various motifs can be presented musically, which added an additional layer of meaning to the piece. I was not sure if the musical intentions would shine through, but I was ultimately proven wrong. I found myself enjoying the moment and felt that it was a performance where the final product eclipsed the rehearsals. During the performance, everybody was very focused which resulted in everything really locking in. Lastly, the technological aspect of this performance also reflected the music of our era, which was really cool."
– Zhi Yi Dong (MM' 23, violin)