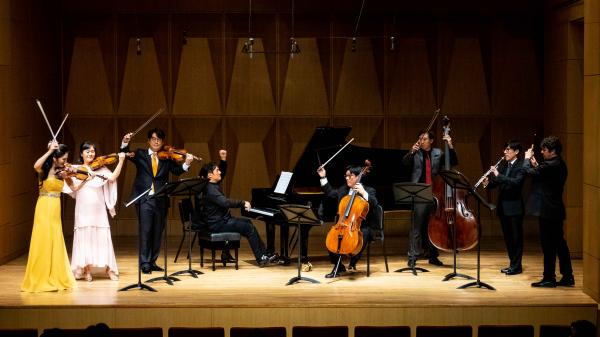 Over the decades, hundreds of students have traveled from South Korea to New York City to study at The Juilliard School. This month, Juilliard's Office of Alumni Relations and The Tianjin Juilliard School organized an alumni reunion and concert in Seoul. The event took place on September 19 at Ilshin Hall, a beautiful and intimate concert venue in Hannam-dong. Ara Guzelimian, provost and dean of The Juilliard School kicked off the celebratory evening with a warm welcome to alumni and guests before the performance.
Members of the Tianjin Juilliard resident faculty and five Juilliard alumni from South Korea came together to perform the music of Jean Cras, Krzysztof Penderecki, Osvaldo Golijov, and Józef Władysław Krogulski.
For the very first time, the Tianjin Juilliard resident faculty performed together as the Tianjin Juilliard Ensemble. They included: artistic director and dean Wei He, violin faculty Guillaume Sutre, viola faculty Sheila Browne (BM'93), cello faculty Yeonjin Kim, double bass faculty Daxun Zhang, harp faculty Kyunghee Kim-Sutre, flute faculty Gergely Ittzés, clarinet faculty Xiangyu Zhou (BM'09, MM'11), and percussion faculty June Moon Kyung Hahn (BM'08, MM'14). This ensemble, comprised of the Tianjin Juilliard faculty, will perform throughout the world.
The Tianjin Juilliard resident faculty were joined by Juilliard's outstanding Korean alumni including violinists Kyung Sun Lee ('94) and Hyuna Kim (MM' 95), violist Sang-Jin Kim ('99), cellist Sangmin Park (Pre-College '85; BM '88), and pianist Ian Yungwook Yoo (BM'01).
The five alumni performers currently teach at top universities in Korea – the Korean National University of Arts, Seoul National University, and Yonsei University. These schools are considered to be among the best institutions for classical music education in South Korea. On October 19, violinist Kyung Sun Lee and violist Sang-Jin Kim will give a master class to Tianjin Juilliard Pre-College students in Tianjin, China.
The evening was a memorable one for the alumni community who reconnected at the reception following the concert. Dr. Joseph W. Polisi, president emeritus of The Juilliard School also gave a speech during the reception highlighting the wonderful alumni community in East Asia, and elaborating on the vision for Juilliard's new campus in China. With The Tianjin Juilliard School just a short airplane ride from Seoul, this gathering was a wonderful start to a new relationship between the artists of The Tianjin Juilliard School and Juilliard graduates based in South Korea.